I've only once before tasted single malt from Macduff, also from an independent bottler. One always approaches the tasting of a new or unfamiliar distillery as a potential for opening new, exciting doors of previously undreamt flavor… and while sometimes that's true, I've found that more often you realize that the "unknown" distilleries are largely unknown for a reason. They exist to provide malt for blended whiskies because they blend well. They blend well because they have unchallenging, mass-market attributes that don't compete with the rest of the elements in the blend.
In this case, we have a 10 year-old Macduff (aka The Deveron) from independent bottler That Boutique-y Whisky Company. This sample is from batch 8 and was bottled at 50.2% ABV.
Nose: Enthusiastic aroma of fresh linen, ozone, marzipan, banana cream pie, and overripe (not tart) kiwi. Aromatic, but fleeting and insubstantial.
Palate: Moderate, not quite syrupy, body. A strong (expected) tongue burn is followed by sunflower seed butter and lemon meringue. The palate is very lively, with the tart notes that were missing from the aroma. Moderately sweet, but lacking low-level notes of oak or grain.
Finish: Short. Back to one-dimensional. Dairy cream and leftover lemon from the palate. Ends quickly without evolving.
With Water: A few drops of water don't seem to affect the aroma. The palate is thinner, but with more tart fruit (pear, kiwi). Water isn't needed here, but doesn't hurt. Experiment with it to see what it does for you.
Overall: A flash in the pan that is mostly interesting on the palate. There's nothing wrong, per-se, in terms of off-notes. However, this is a classic example of why some single malts are better used as components in blends. This Macduff is desperately seeking roundness, longevity, and bass notes. It would blend magnificently with something with heavy malt and wood flavors. Alas, it's of passing interest by itself. Especially at "Boutique" prices.
About The Distillery
A Speysider owned by Bacardi and often bottled as Glen Deveron or "The Deveron". It was built during the whisky boom of the 1960s to capitalize on expanded demand for Scotch. The modern facility is outfitted with relatively high-tech equipment, but remains largely unknown as a single-malt. A large percentage of its production goes into the William Lawson's blend.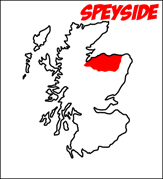 Boutique-y Whisky: Macduff (10 year)
50.2% ABV
Price Range:
$100 (estimated per 750ml)