Jim Murray caused a bit of an uproar when he named Ballantine's 17 year blended scotch whisky World Whisky of the Year in his 2011 Whisky Bible. In 2010, it had climbed nearly as far – winning best blended scotch of the year. The thought of a blended scotch trumping over all single malts sent many whisky nuts (this one included) into paroxysms of rage. I had to try it.
A caveat: I've since read that Jim was tasting a newer bottling of Ballantine's 17 – the slightly updated bottle in a blue box and the number '17' in larger font on the label. Since my tasting sample was a 30ml Master of Malt vial, I have no clue whether it came from the blue-box or red-box Ballantine's.
Like many blends that were born in grocery stores, Ballantine's originated as a series of blends sold by a grocer named George Ballantine in 1827. It uses 50 malts, but focuses on four key 'flavor' malts: Scapa, Glenburgie, Miltonduff, and Glentauchers. Of those, I've only tried Scapa before.
Nose: Honey and honeysuckle. The honey here is refined, not raw or honeycomb-like. Very floral. Vanilla. Faint hint of woodsmoke. Sweet apple cider. Buttercream frosting. Reminds me a lot of Oban 14.
Palate: Vanilla bean up front. Milky texture – not quite creamy. Elegant malt, with pure cereal flavors. Becomes tangy near the end – lemon custard.
Finish: More honey on the finish. A touch of wood. No bitterness to speak of. Medium-long. Echoes of honey and buttercream frosting.
With Water: Water releases a puff of cinnamon, a whiff of licorice, and something herbal that might be peat. It doesn't hurt the body too much but it roughens up the finish, making the dram taste younger than it is. Skip the water here.
Overall: What's most impressive here is the concentration of sweet desserty flavors without even a touch of bitterness on the finish. I guess that's what you're paying for. I could have used a little more nuttiness somewhere to round out the flavors. There is nothing here to indicate the presence of "low brow" grain whisky. After 17 years, it has definitely smoothed out. It adds the body and likely some of the cereal flavors, although the lack of full creaminess in the body texture makes me wonder if the grain whisky percentage in the blend is low. The overall impression is light and sweet, without any eclectic or surprising flavors to distract the palate. Surely, it's very very good whisky… but I wouldn't call it exciting.
I'm not sold. Sure, it's good whisky, but I'd rather spend the money on some malts that are at least as good (quality-wise), even if they aren't as masterfully assembled. It's like buying one piece of art from a popular artist instead of four pieces from equally-good, but less-known artists for the same money. Will you enjoy the popular painting (and its inherent value) more? Probably, but you can cover more wall space with the four also-rans. Maybe that's a tortured metaphor, but it works for me. If the above sounds interesting, but you don't want to drop the $90, spend the money instead on a bottle of Oban 14, which is packed with honey flavors, and a bottle of Great King Street which is almost as good for half the price.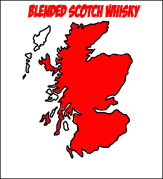 Ballantine's 17 Year
43% ABV
ScotchNoob™
Mark
:
Price Range:
$90 [Sponsored Link]