Whisky ages on a continuum. It starts out clear, rough and vibrant. First it turns fruity, nutty and sweet. It then matures into smooth, elegant and condensed. Finally, it dies woody, musty and rancid. The goal of any bottling company (independent or owned by the distillery) is to pick the right spot to freeze a whisky in time by bottling it, airless, in a glass bottle. Whether 3, 8, or 50 years old, every bottled whisky lies somewhere between these two extremes. When a whisky goes into a barrel, nobody knows what it will taste like when it matures fully, or how long it will take. A whisky that "matures" completely in three years in the hot, humid climate of Bangalore, India, might otherwise have taken 20 years in cool, windy Scotland.
Whisky marketing over the past three decades has taught us that "older is pricier" and "pricier is better", therefore (logically) "older is better". Don't believe the spin. While it's true that older is generally pricier (due to the costs associated with warehousing barrels for long periods of time, plus the loss of whisky due to evaporation), age alone by no means determines quality. Here, unfortunately, is a cautionary example.
While I very much enjoyed Cragganmore's 12 year old distillery bottling and especially their port-finished Distiller's Edition, the 21 year-old distillery bottling that I tried at a recent K&L Whisky Tasting was truly disappointing. This whisky, distilled in 1989 and put into the bottle in 2010, reflects 21 years of aging in 2nd- and 3rd-fill American oak (ex-Bourbon) barrels. It is bottled at 56% ABV (which was cask strength after all that evaporation). The batch made only 5,856 bottles. It retails for *gasp* $200, although it can be found for as little as $160. Is it worth the astounding price?
Nose: Overripe banana skins, pine sap, fresh chive flowers.
Palate: Grape skins (grappa), and a bit thin on the tongue. How can a 21 year-old be watery? Florals develop later, and spearmint. Green moss.
Finish: Heather. Nice raw, concentrated honey. Light and airy.
With Water: A spicier hint of Grappa, juicy pear, and more banana. The finish acquires some coconut, tropical fruit, and pine.
Overall: Well, is this worth the money? No. It's just OK. It's certainly smooth, but what used to be vibrant is now limp. Where there were nuts and chocolate there is now composting banana peels (you know the smell I'm talking about) and some stale coconut. The only major redeeming feature is the lack of the heavy wood you might expect in something this old (likely due to the use of much-used barrels). Spend your money on The Macallan 18, which has aged gracefully, or on several bottles of younger spirit. In this case, older is not better, at least not in my opinion.
About The Distillery
Cragganmore was built in 1869 to produce spirit for shipping on the newly-linked Strathspey railway line. The distillery water is hard and comes from Craggan Burn. The distillery, named for the hill of Craggan More in Speyside, is owned by Diageo. Despite being part of the company's Classic Malts series and a component in Old Parr blends, Cragganmore lacks the popularity of many of its Speyside neighbors. Wooden washbacks, worm tubs, and an unorthodox combination of still shape, size, and lyne arm angle make for a very complex, meaty whisky.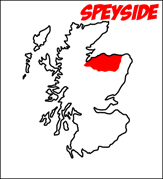 Cragganmore (21 year)
56% ABV
Acquired:
(1/4 oz tasting sample) K&L Wines and Spirits, Redwood City, CA