Hey look, it's almost 2019. What better way, I think, to ring in the New Year than to reconfirm what a salty bastard I've become and review something that is sure to raise the ire of anyone who's been drinking whisky longer than I've been alive? I'm really hoping someone calls me a "whippersnapper" in the comments. After trying really hard to like Cutty Sark's baseline blended scotch (in which I suggest readers don't try to smell the whisky), I deluded myself into thinking maybe a sample of the 12 year-old would go over better. I mean, half of the problem with inexpensive blended scotches is that they routinely use a high proportion of bottom-dollar (and minimum legal age at 3 years of maturation) grain whisky. So, the theory goes, if you restrict the blend to only 12 year-and-up components, that eliminates the problem, right?
Right?
Cutty 12 is weirdly hard to find online. It's either undergoing a revamp (so everyone is sold out) or the distribution is limited due to… I don't know… an attempt to drum up demand via scarcity? Whatever the reason, you're not missing out if you can't find it. Oops. Spoilers.
For something significantly better without paying more, Cutty Sark Prohibition Edition is actually quite nice.
Nose: Weirdly barnyard-y (soiled hay) right out of the bottle. This reminds me, immediately, of Sheep Dip with all the associated negative connotations. A rest in the glass does little to relieve this, but does add a little sweetness for balance. Yes, now it smells like sweet sheep crap. To be fair, there is also a nice grapey note in there – like sweet white wine or fresh green grapes.
Palate: Medium bodied, almost syrupy. Very sweet, with cloying taffy, bright red maraschino cherry, and assorted bakery sweets. Not much dimension, but boy does this deliver on the sugar.
Finish: Short. A welcome hint of something nutty – hazelnut? – and a wash of bitterness. Slightly mouth-drying.
With Water: A few drops of water seem to mute the aroma (a good thing?) and require yet another rest to reveal some toffee and butterscotch. The palate is (even) sweeter, as in pure white sugar and simple syrup. Skip water here.
Overall: Ok, it's not awful, but the additional 9 years (I kid) of aging has not made this into something special. It might have added some oaky sweetness, and a little hazelnut to the palate, and it might also have rounded off some rough edges, but it remains mass-produced blended scotch.
I've said it before and I'll say it again. These large blended scotch brands have gotten where they are by low prices, marketing, and bulk production efficiency, not by flavor. I contend that the vast majority of Cutty drinkers (or JW Red, or Grouse, or Chivas, or J&B, or…) would have chosen a different brand if they'd been exposed to better options when they first tried it. Now they've "acquired a taste" for the assorted off-flavors and weird esters that are a result of making scotch as cheaply as possible, and many will defend it until their dying breath.
That joke about sheep crap was uncalled-for, and I'm about to hear about it in 3… 2… 1…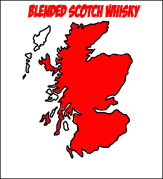 Cutty Sark (12 year) Blended Scotch
40% ABV
ScotchNoob™
Mark
:
Price Range:
$30 - $45 (estimated)