Note: This review was written in 2011 back when Macallan 18 was a bit above $120. Now, it's $240. While the tasting below is accurate, I do not believe that Macallan 18 is worth $240 a bottle. At a stretch, I would pay $150 in 2016 prices… and mostly only for nostalgia's sake. Therefore, take the below with a grain of salt.
The Macallan 18 lies at the intersection of two worlds. On one hand it remains the staple of luxury hotel bars, CEO offices, and corporate Christmas gifts. Drinking it has become something of a status symbol. When Jessica Simpson ordered a glass of The Macallan 18 at a restaurant in L.A. (over ice.. gah!) it made headlines (not, you know, USA Today, but bear with me here). If a big-time corporate CEO doesn't know much about scotch but needs to impress foreign investors, chances are he pours either The Macallan 18 or Johnnie Walker Blue Label. Usually when a product attains this type of status with "the public", it becomes persona non grata with the anoraks, geeks, and connoisseurs that make up the rest of the industry. Not so with The Macallan 18. A consistent level of quality combined with a popular (if older) style of cask aging – all sherry, all the way – make this dram a standard favorite among even the whisky elite. At WhiskyFest last week, The Macallan table was as busy as ever – they were pouring the 18.
The only complaint most experts have about The Macallan is that their incredible level of production – 8 million liters of alcohol annually – implies a corporate culture of mass-production. When "efficiency" begins to trump "quality" in the boardroom, customers suffer. Whether that's the case at Edrington or not, The Macallan 18 continues to impress.
I split this bottle with a friend – purchased in July of 2011, it comes from one of the more recent batches. I remember having a glass from a previous batch early in my whisky education and being blown away by the smoothness and the dark, leathery complexity. Today's Macallan 18 is perhaps a little brighter, a little sweeter, and just as good.
Nose: Sherry all the way. The fruit here is bright and juicy: ripe red raspberries, strawberry preserves, quince paste on toasted wheat bread, some oaky caramel and hot drawn butter. It's a beautiful, silky nose with pristine sherry character and perfectly aged malt. A few drops of water makes it seem younger, bringing a little candy apple and fruit punch.
Palate: Oaky upfront, furniture varnish, a little cherrywood peeking through. Unbelievably smooth on the tongue, with barely any burn. Mouthfeel is unctuous and medium-thick. Jams and preserves dominate, dried figs, milk chocolate-dipped dried apricots. A little water dulls the brighter notes, muddying the clarity of the flavors somewhat.
Finish: Medium-long, with a bit of cigar tobacco, cocoa nibs, dried cranberries, and a last eddy of woodiness.
Overall: The beauty of this is in the nose. It's hard to imagine a more perfect sherry-matured nose: the malt integrates flawlessly with the equally flawless sherry notes. Nothing is out of place or weighted too heavily. No leaning towards the rancid fruit, nor any suggestion of oak saturation. In the mouth, the quality is evident, but the number of detectable flavors is limited. The finish, while capable, doesn't reveal anything unexpected. Truly a classic dram, which continues to be excellent. I suggest skipping the water – this whisky doesn't need it.
About The Distillery
The Macallan is big. Real big. Prized by collectors, consumed all over the world, The Macallan is a marketing powerhouse, with a very wide range of single-malt expressions targeting local tastes in every major market. Distilling almost continuously since 1824 when Scotland first legalized the production of spirits, The Macallan releases "replicas" of its older bottlings and also continuously experiments with new finishes. With global whisky tastes evolving away from the classic "all Sherry, all the time" style, The Macallan is battling its image as a Sherry Monster by releasing a "Fine Oak" range that focuses on the wood influence, and using a lower proportion of Sherry aging. You can always rely on a flagship Macallan to display big sherry notes of dark fruit, raisins, and spice.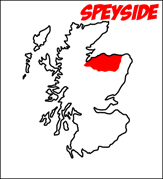 The Macallan (18 year)
43% ABV