Isle of Skye, despite the name, is a blended scotch containing whisky from several areas of Scotland. Indeed, a proportion of Talisker (the only distillery on the island of Skye, off the western coast of the Scottish Highlands) is represented, as well as a blend of gentler Speyside malts, some "Island" (which could refer to Islay, Orkney, or Skye) malt, and some grain whisky. According to the bottler the youngest whisky is 8 years old (which, by law, dictates the age on the bottle), but the blend contains some "much older" whisky. The blend is aged in an ex-bourbon barrel and bottled at 43% ABV. The company, Ian Macleod Distillers, will be releasing a 12-year version soon.
Nose: I'm detecting only a bare suggestion of Talisker. Nice prickly lemon drop and mild peat, with some pear notes on top.
Palate: Burny – evident young grain. Very crisp, with marshmallow and more sweet lemon. Peat reveals itself on the tongue as mossy and slightly musty.
Finish: More smokey than the nose. A little rough, and some bitterness creeping in. Finally there is a suggestion of Talisker sea-salt!
Overall: There can't be much Talisker in here, unless my senses are failing me. The grain component is pretty rough, as expected for a youngish blend. The malt, which may be of higher proportion than most NAS blends, doesn't provide much Talisker brine, peaty character, or any fruity/floral speysider qualities. It's a very in-between whisky for drinkers who don't like big peat, big fruit, or big malt. Better than the cheaper NAS blends, though, especially if you like your peat light and crisp. I would definitely class this above The Black Grouse. I believe that this, like many mild mid-range blends, will grow on you as you go through a bottle. With only a small sample pour to gauge it, I wasn't impressed. On the upside, it's very cheap at around $28 a bottle.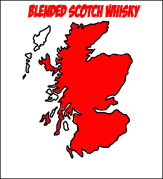 Isle of Skye (8 year)
43% ABV
ScotchNoob™
Mark
:
Acquired:
(1/4 oz tasting sample) K&L Wines and Spirits, Redwood City, CA. http://www.klwines.com/detail.asp?sku=1046113