Unlike basically everybody who wrote about whisky in 2004, I never reviewed the original Peat Monster from Compass Box. I tasted it a few times at whisky shows and always found it dry and lacking in both the maritime complexity one expects from Islay peat and any kind of characteristic that warrants the "monster" moniker. I have notes that say it reminded me of the Highland peated malts that I didn't (and still don't) prefer, like Ledaig and peated BenRiach. Only 11% of the blend was comprised of peated Highland malts (Ledaig and Ardmore) so that was probably all in my head.
Thanks to Debbie at The Collective PR, I was able to sample a slate of Compass Box malts including this one, a reformulation of the Peat Monster recipe new for 2019. You can tell the difference at the shop by the labels. The old Peat Monster label was a brown and gold illustration of the eponymous monster. The new one is a painting of said monster in a desert landscape (the same one used on the 10th anniversary bottling).
The new formula still relies on Caol Ila and Laphroaig, but at a different ratio and without the extraneous peated Highland malts. The new Peat Monster contains 64% Caol Ila and 35% Laphraoig, plus 1% of the French Oak-finished batch of blended Highland malts that John Glaser seems to be throwing into everything these days. The blended malt is bottled at 46% ABV without chill filtration and has no added coloring. If you want to know the ages of the components, I believe Compass Box is still giving out that information if you ask their Support email address, as long as you promise not to spread it around.
The question on my mind is if you toss Caol Ila and Laphroaig into a ring, which one wins?
Nose: A monster indeed. Unlike the previous PM release, I can tell at first glance that this is nearly all Islay malt. Seagrass and iodine from Laphroaig with campfire and sweet roasty vanilla from Caol Ila. The balance is sublime, although the edge in style points goes to Laphroaig, which wins the arm wrestle.
Palate: Thin body. Smoked seaweed is in the fore (a point to Laphroaig!), with undercurrents of smoked jerky, vanilla, toasted nuts, and briny pickle juice.
Finish: Long. A continuation of the previous notes. One more point to Laphroaig, which is still dominant. Bitterness is minimal (despite both of these malts tending to carry some), and the finish fades very slowly with only slight changes to the smoke. At the tail end, Caol Ila dominates with puffy vanilla clouds and charcoal dust.
With Water: A few drops of water initially wash out the aroma, which recovers. The water doesn't have much effect on the rest, except perhaps amping up the smoke on the palate and finish. Water optional.
Overall: It is fascinating (to me, but I'm weird like that) to find that a 35% proportion of Laphroaig would take over the aroma and flavor profiles against a 64% proportion of Caol Ila. The final effect is a very successful blend, where Laphroaig takes center stage and is supported with the depth and fullness of Caol Ila. The best of both worlds, if you will, but you kind of have to already be a Laphroaig fan to enjoy those iodine notes.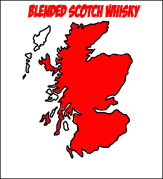 Compass Box – Peat Monster (2019 Edition)
46% ABV
ScotchNoob™
Mark
:

Acquired:
(50ml review sample) Thanks Debbie!