There's something I like about a little miniature bottle of a cheap blended scotch. It has so much promise. Might this be the next old-school gem from the days when blended scotch was what everyone drank? Has this one stood the test of time, and resisted the stultifying effects of a whisky market gone insane? Maybe I'll find a new favorite value bottle, that I can mix or sip with impunity.
…and then I open it and I find more or less the same thing. Too much grain. too little flavor. Sigh.
Hankey Bannister is produced by Inver House Distillers, owners of Balblair, Old Pulteney, Speyburn, Balmenach and anCnoc. The blend, not surprisingly, contains malt from all of these distilleries, although other details are scarce. The line includes some weighty products with age statements of 12, 21, 25, and 40 years, but I only have a miniature of the Original non-age-statement blend. Also, while the name sounds like a silly British play on words, it's in fact a conjugation of the names of the brand's founders, Beaumont Hankey and Hugh Bannister.
Nose: Light grain, lemon peel, and a heavy dose of grain neutral spirit (vodka).
Palate: Nice, creamy mouthfeel. A Glenkinchie-like lemon pervades the flavor, and isn't much balanced by anything, including the continuing vodka notes.
Finish: Short. A slight marshmallow sweetness, lemon candy, and vodka. Finishes with – you guessed it – vodka.
With Water: A few drops of water heighten the citrus notes – adding grapefruit, notably – but do little on the tongue or finish. Water neither hurts nor helps.
Overall: Some part of me thought that a little-known (in the States) homestyle blend might carry with it a cure for the common blend, perhaps carrying the Old World love of blended scotch into the modern age. Alas, this is brown vodka in the worst sense, with entirely too much "light whisky" – practically grain neutral spirit or vodka – without nearly enough flavorful malt to fill it out. The only things it has going for it, aside from the silly British name, is a bumped ABV and some pleasant lemon notes.
For once, I can't blame the plastic miniature bottle (this one is glass).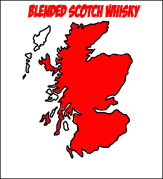 Hankey Bannister Original Blended Scotch
43% ABV
ScotchNoob™
Mark
:
Acquired:
(50ml glass miniature)