The whisky boom has had an interesting effect on dead and delinquent brands. Soaring whisky interest and demand has led to old, defunct, abandoned, or simply languishing brand names and trademarks to be reinvigorated or downright resurrected in an effort to grasp at some of that overt demand. This has lead to extinct American whisky brands like Bomberger's Declaration and Michter's to be re-launched (although under different ownership and without access to the original distillery). It's also led to the rebuilding and relaunching of closed Scottish distilleries, such as the recently-announced Brora, Port Ellen, and Rosebank projects. Other brands, once relegated to the dustbin of consumer apathy, are being dusted off and re-launched with much fanfare. John Barr, once a DCL (Diageo) underperformer and now a Whyte and Mackay label, is one of those.
Created in 1978 to compensate for a legal skirmish that took Johnnie Walker Red Label off of UK store shelves, it failed to recapture even a portion of that lost market share. The label was quickly sold off during the Guinness acquisition of DCL that created Diageo in 1986, to Whyte & Mackay (via Invergordon Distillers) of Dalmore fame. Whyte & Mackay master blender and celebrity whisky personality Richard Paterson re-formulated the recipe, likely a necessity since the blend now needed to be composed of whiskies available to W&M instead of the full Diageo stable. In early 2017 the brand was re-launched with new packaging, under two expressions: John Barr Finest and a premium blend containing older malt and a smokier profile called John Barr Reserve. These are still intended to compete directly against Johnnie Walker Red Label and Black Label, respectively.
This review was suggested by a reader. I apologize in advance if I didn't like this as much as you did… if I had not noticed the specific off-note on the finish, I probably would have appreciated the whisky a lot more considering its excellent price-point.
NOTE! This review is of the "old label" (pictured). I can't find solid information online about whether the 2017 relaunch and new labeling is accompanied by a different blend recipe or not. If anyone has tried the old and new labels side-by-side, I'd be interested to hear your impressions!
Nose: Very slight peat (more fungal than smoky), over a mildly sweet vanilla malt. Faint rock candy and a touch of caramel. Not obviously grainy.
Palate: Mildly syrupy body. Sweet and malt-forward, with loads of baked goods (scones), caramel, and a hint of black pepper. On the tongue the grain elements are revealed, with a twinge of young grain that comes across as glue (rubber cement).
Finish: An ugly twist of industrial solvent (acetone) ruins an otherwise middling experience. The whole of the finish is swallowed up in shudder-inducing paint thinner and charcoal. Blech.
With Water: A few drops of water muddle the aroma, releasing some nondescript fruit notes but confusing the rest. No real change on the palate or finish. I would avoid the water with this one. (Also avoid ice – it does NOT help.)
Overall: Apologies to the reader who suggested this one. It has a mild, promisingly inoffensive aroma and a middling palate marred by a very common (for this price-point) grain-whisky-induced glue (or vodka-like) note. The whole thing goes down the proverbial tubes on the finish, which is entirely overwhelmed by raw grain alcohol notes and acetone. One really shouldn't expect very much from a $23 scotch, even one blended by legendary blender Richard Paterson, but a side-by-side comparison with Bank Note (which has an actual age statement) leaves no doubt about what can be achieved even at this market segment of razor-thin margins. Maybe the $50+ "Blue Label" from John Barr is better, but I cannot in conscience recommend this one when Bank Note and even Johnnie Walker Black Label exist.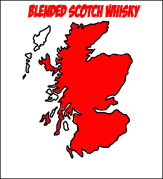 John Barr Reserve Blended Scotch
43% ABV
ScotchNoob™
Mark
:
Acquired:
(750ml bottle) Total Wine & More, San Jose, CA, $23