I had the pleasure of meeting George Grant of the Glenfarclas family at a K&L Tasting on Tuesday. Very friendly chap, even when I asked him if he was related to the Grants of Glenfiddich (William Grant & Sons company). Yes, he said, if you go back some 200 years, he's related to them… but he mentioned that the William Grant & Sons company has been controlled by the Gordon family after William Grant left the company to his son-in-law, Charles Gordon in 1923.
Glenfarclas is one of the few independent family-owned distilleries left in Scotland. Oh to be the heir of a family with some tens of thousands of barrels of quietly aging sherry-matured scotch to its name! Let's hope they keep their heads above water and the dollar signs out of their eyes, lest we see another independent bite the dust.
Big stills (the biggest in Speyside), which are direct-fired (not heated with steam) contribute to the interesting duality of Glenfarclas whisky: it is at once weighty and light – deep but crisp – and although it is aged almost exclusively in first-fill ex-sherry barrels, it does not become syrupy or heavy with fruit. I had a sip of the 40 year-old a few weeks ago, and while it tasted old, it did not taste thick, over-sherried, or unpleasantly woody. Of course, one must pay for high-quality whisky produced with an independent spirit. The 17 year-old is $90.
Nose: Toffee. Marshmallow. Smooth – very elegant and refined. Bit of orange peel oil.
Palate: More orange. Medium sherry character. Delivers on the promises made by the nose. Pleasant and easy to sip.
Finish: Oh yeah. Supple. Orange peel, with a lightly herbal sherry character that is more reminiscent of crisp white cherries than heavy dried prunes. No bitterness at all, and while the finish is only of medium length, it resounds to the end with crisp citrusy sherry and lightly caramelly malt.
Overall: Yum. Very enjoyable. Of course, it's $90, so… not exactly great value, but if you compare it to some of the $100+ 18 year-olds on the market, it stands up well.
About The Distillery
One of only two Scottish distilleries that has remained in family ownership since its establishment, the Speyside distillery has six stills, and are some of the largest in the region, but still refers to itself as a "Highland" malt. The stills are direct-fired rather than steam heated, which the family claims is necessary to produce a weighty spirit. Its water flows from the heather-covered slopes of Ben Rinnes. Glenfarclas whisky is aged exclusively in ex-sherry casks, most from producer José-Miguel Martin. The whisky matures slowly in earthen-floored dunnage warehouses, with little loss to the angels. It might be said that Glenfarclas shows best after long aging, and the family releases a long series of bottlings into the 40 and 50 year-old range.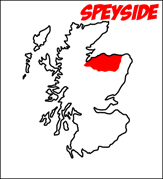 Glenfarclas (17 year)
43% ABV
Acquired:
(1/4 oz pour) K&L Spirits Tasting