The Famous Grouse was first blended by wine merchant Matthew Gloag (grandson of the company's founder) in Scotland in 1897. Now, the brand is owned by the Edrington Group. It is a blend of grain whisky (purportedly over 65%) with unknown quantities of single malts including The Glenrothes, Highland Park, and The Macallan. Its malty character is impressive considering the high percentage of grain. The Famous Grouse is the best-selling brand of whisky in Scotland, but is not as well-known elsewhere. The company suggests serving on ice, with water, or with mixers. I prefer to compare all whiskies neat, however, so my notes are for the whisky straight:
Nose: Grain prominent, with marshmallow, mild malty sweetness, baked sweets.
Body: Medium, with a slight chewiness.
Palate: Upfront there is a clear grain component. Resolves into toffee, malt of indistinct origin, but smooth and soft.
Finish: Short, a mild vodka like grain lingering. Some pepper and a little brown sugar.
Good, but a little bland. No peat and no fruit, but also smooth and malty with a nice toothiness. A drink-it-and-forget-it malt, but certainly better than the bottom-shelf blends of lower cost. Does not compare favorably with the cheaper highland malts.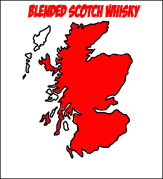 The Famous Grouse
40% ABV
ScotchNoob™
Mark
:
Acquired:
(Bottle): Total Wine in Roseville, CA. $20 Total Wine.