Once again I have very little that is remotely interesting to say about Glen Grant. I previously reviewed the 12-year and found it very middle-of-the road in just about every metric I could think of. Glen Grant is one of those sleepy distilleries known for producing bulk malt for blends (Chivas, in this case) which has semi-recently been dressed up in new packaging (in 2016) and pressed into service as a standalone single malt by its owners, the Campari Group.
This 15 year is aged in ex-bourbon for 15 years and bottled at 50% ABV without chill filtration (color is not mentioned, so it might be color-adjusted). While Glen Grant does use sherry casks in some of its expressions, this is a purely ex-bourbon bottling. The bottle says "Batch Strength" which is a little odd when you think about it. Isn't every batch – literally all of them – at "batch strength"? It's definitely not the strength you'd get by dumping several dozen casks into a marrying tun… because it's a nice round number, and far too low. So, I guess "Batch Strength" must just mean "Not Cask Strength". Still, 50% ABV is very respectable.
Nose: Honeyed cereals with a solid backbone of orchard fruit. Fresh hay, lemon peel, ripe pear. Not complex, but round and robust. A rest in the glass adds some vanilla saltwater taffy.
Palate: Syrupy body. A moderate tongue burn is followed by deeply sweet marshmallow, vanilla cake frosting, melted ice cream, and chewy fruit-flavored candy (gummy bears?). Below the sweet notes there is a foundation of malty cereal grains and plain oak.
Finish: Medium length. Vaguely bitter, with a dose of black licorice (anise), barrel char, spicy cinnamon, and a touch of smoke. Fades slowly but without evolving. Odd that all of those sweet/candy notes have vanished.
With Water: Several drops of water seem to mute the aroma, even after a rest in the glass. The palate is softer but otherwise unchanged. The finish acquires some much-needed fruit notes and some sweetness. Try without water first, and then see if water changes it for you.
Overall: A well-built dram with a classic ex-bourbon profile that is dense and chewy enough to really represent the style. A dessert dram, but also not a subtle one. I would wish for a better sweet/bitter balance on the finish, but otherwise this is a very tasty dram with a reasonable price point (these days, anyway). Assuming, that is, that you can find it for under $80. My Costco had it for $56, which is excellent. Eighty bucks is a bit greedy for this.
About The Distillery
There are many Grants in the whisky-making business in Scotland, but only one Glen Grant. Established in the town of Rothes in Speyside in 1840 by brothers John and James Grant, who had a history of both legal and illicit distillation. The distillery uses 8 very large stills powered by steam, with lyne arms descending into purifying tanks which produce a light new make. While the distillery previously used peat and sherry barrels, it now largely produces unpeated malt aged in ex-bourbon. Glen Grant's original success in its home country was due to the efforts of its builders to encourage (and finance) a railway line through Rothes, which enabled Glen Grant to position its product throughout Scotland. After a sale in 2006, Glen Grant is now owned by Campari, and is the leading single malt brand in Italy. Glen Grant malt has long been a component of the Chivas blends. Water comes (appropriately) from the Glen Grant Burn which flows from the quartzite hills to the west of the distillery, and the Caperdonich well which rises out of river gravel, and are probably combined to achieve desired minerality.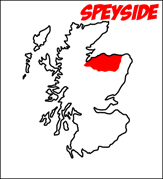 Glen Grant (15 year)
50% ABV
Acquired:
(750ml bottle) Costco, San Jose, CA, $56.