Oh man do I not have anything remotely interesting to say about Glen Grant. I have attentively tasted whisky, predominantly scotch, for more than a decade now and have only had two Glen Grants. One of them was at a tasting and it was deep enough into the night that I can remember nothing about the whisky. The other was this Master of Malt 30ml sample. Glen Grant is one of those sleepy distilleries known for producing bulk malt for blends (Chivas, in this case) which has lately been dressed up in new packaging (in 2016) and pressed into service as a standalone single malt by its owners, the Campari Group.
This 12 year is aged in ex-bourbon for 12 years and bottled at 43% ABV, after being chill filtered. While Glen Grant does use sherry casks in some of its expressions, I can't find anything online that indicates whether the 12 year contains any sherry-matured liquid. I'd assume not.
Note that there's also a Travel Retail expression of the 12 year which is bottled at a higher 48% ABV and which is non-chill-filtered.
Nose: Oily, with a predominant note of pear drops or similar candied fruit. Lemon verbena, green tea, and vague faint florals round out the profile. Light, but pleasant and just tart enough to be interesting.
Palate: Thick body. Tart candied fruit again takes center stage. After a mild tongue burn, there are mild malty cereal grains and even milder oak sweetness.
Finish: Of medium length. A somewhat muddled combination of the flavor notes from the palate that never seem to resolve, but fade slowly. No bitterness.
With Water: A few drops of water seem to have little effect on the aroma, but they muddy the palate. Water isn't needed here, and doesn't do anything positive.
Overall: A light, airy, fragrant malt with some interesting tart notes and just enough sweetness. It's not the best 12 year-old malt, but it's not the worst. It could easily stand toe-to-toe with Glenfiddich 12 or Glenlivet 12, and maybe even edge them out in terms of polish and lack of off-notes, especially if you can find a comparable price. That said, I'd still rather have a GlenDronach 12 or Glenlivet 14 Cognac Cask for the ~$45 that Glen Grant is selling for here.
The 15 year is better, if you're looking for an upgrade.
About The Distillery
There are many Grants in the whisky-making business in Scotland, but only one Glen Grant. Established in the town of Rothes in Speyside in 1840 by brothers John and James Grant, who had a history of both legal and illicit distillation. The distillery uses 8 very large stills powered by steam, with lyne arms descending into purifying tanks which produce a light new make. While the distillery previously used peat and sherry barrels, it now largely produces unpeated malt aged in ex-bourbon. Glen Grant's original success in its home country was due to the efforts of its builders to encourage (and finance) a railway line through Rothes, which enabled Glen Grant to position its product throughout Scotland. After a sale in 2006, Glen Grant is now owned by Campari, and is the leading single malt brand in Italy. Glen Grant malt has long been a component of the Chivas blends. Water comes (appropriately) from the Glen Grant Burn which flows from the quartzite hills to the west of the distillery, and the Caperdonich well which rises out of river gravel, and are probably combined to achieve desired minerality.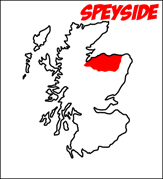 Glen Grant (12 year)
43% ABV