Long-time readers know that I'm a Mortlach fanboy. I won't say that I emit a high-pitched "Squee!" when I see a good deal on Mortlach, but I also won't say that I don't… And what a deal this is. Right now (if it's not already sold out), retailers across the world are being told they can (and should) closeout all of the Game of Thrones editions of Diageo single malts. Some of these were passed off as Black Friday sales, but some retailers are just listing them for bottom dollar without much fanfare. The "Six Kingdoms" bottling which was supposed to be the crown jewel of the collection originally retailed for around $150 after the show ended (don't get me started on that) and then it went on sale for $80 in some places last year. Now you can find it for $60. Talk about a fall from grace. Don't limit yourself to the Mortlach, though, you can still find many of the other bottlings from the Game of Thrones series for 50% – 70% off retail. Stock up, none of them are bad. Based on reading a few scattered reviews, they're all drinkable but just below the quality of the normal official bottlings from each respective distillery.
Why are these bottles going for such crazy markdowns? Simple, really, Diageo over-estimated the demand for co-branded whisky and bottled too much of it. The show has faded from the public's memory (the last season didn't exactly help) and boxes upon boxes of slightly subpar Diageo malt in pretty canisters are sitting in back rooms and warehouses all over the place. They want it gone, presumably so they can forget it ever happened. Honestly, I feel that it's a pity because it was a cool idea… but it turns out that slapping an attractive co-branded label on a bottle doesn't justify a higher retail price if you don't also put stellar whisky in that bottle. Who knew. Lesson learned? Probably not.
I feel like Diageo has a similar lack of strategic vision when it comes to the crown jewel of their treasury: Mortlach. The Rare Old was a dismal overpriced disaster (which was ALSO closed out at a severe discount). In fact, every good Mortlach I've had was from an independent bottler. You wouldn't think it would be a hard concept: Put well-matured sherried Mortlach in bottles with an age statement and sell them for just under what the public considers a fair price for the age. They'll be allocated everywhere, guaranteed.
As I climb down off my soapbox, I'll talk about the whisky. It's Mortlach single malt that has been aged for 15 years in sherry casks and then ex-bourbon barrels. Oddly, the label and tin say it was "Finished in ex-bourbon casks" which is a silly way to convey that the whisky started in first-fill sherry (seasoned) casks and then was finished in ex-bourbon. You'd think they'd focus on the sherry. In fact, before I looked it up online I thought it just was reracked from ex-bourbon into ex-bourbon! There is no information about whether the whisky has been color-adjusted or if it has been chill-filtered so I always assume that means it has been. The resulting whisky is bottled at a respectable 46% ABV. More information? Please. This is Diageo.
Nose: Meaty, sulfury classic Mortlach. Raisins, figs, dates. Fresh banana. My brother-in-law suggested that it smelled like pennies, which I agree with. It's coppery, but I wouldn't call it metallic. Fairly complex, there's definitely more deeper in the glass that I'm not picking up on yet. Invites a second and third and fourth nosing…
Palate: Heavy body. Moderate burn, slightly hotter than I'd expect for 46% ABV. Flavorful, with a lot of the same notes from the aroma repeated. A chewy date shake with banana cream.
Finish: Medium length. A bit of barrel char / charcoal appears, and while the meaty/coppery flavor persists, a lot of the fruit has dropped out. Fades without much evolution, aside from a ghost of menthol on the very tail end.
With Water: A few drops of water initially mute the aroma, necessitating a rest in the glass. The water picks out a little more banana on the aroma, and adds a layer of sweetness (vanilla / cake frosting) but not much else. The water does make the palate a little more vibrant and adds a tart note there and on the finish… orange peel. Water doesn't hurt here, but try it without water first.
Overall: This gets a "Recommended" rating, but only at the current closeout price. It's not the best Mortlach I've had, but it's still Mortlach with an age statement and that's not something that you can often just pick off a shelf. I would have been severely disappointed if I had paid the full $150 retail price for this. I paid $80, and I'd say that's the upper limit of its value. At the current closeout price of $60 I think it's an excellent deal especially if you've never had any Mortlach before.
For what it's worth, I bought two more when it dropped to $60.
About The Distillery
Mortlach has been a major component in the Johnnie Walker blends since 1923, and a majority of its output is used for blending. The distillery's few single-malt releases are much prized by whisky drinkers seeking the house characteristic robust meatiness and affinity for sherry aging. Starting in 2014, owner Diageo has made a push to release Mortlach as a "premium" single-malt brand, with associated premium pricing and high-end packaging. The Speyside distillery itself was built in 1823, the first in Dufftown, and passed into and out of service (and through multiple hands) until bought by John Walker & Sons (later becoming Diageo) in 1923. Despite several improvements and a refurbishment Mortlach has six stills (three wash, three spirit) of all different sizes, shapes, and origins including a tiny spirit still named the "Wee Witchie" to which the meaty house character is attributed. Similar to Springbank, Mortlach employs a partial triple distillation sometimes called "2.7 times". The distillery uses cold worm tub condensers, stills heated by indirect steam, six larch washbacks and a semi-lauter mash tun. Process water is drawn from springs that run off of the slopes of Meikle Conval, which collect into the Dullan Water which in turn joins the River Fiddich.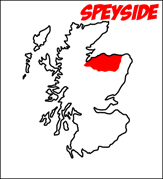 Mortlach (15 year) – Game of Thrones "Six Kingdoms"
46% ABV
Price Range:
$60 - $150 (On closeout)
Acquired:
(750ml Bottle) purchased at Caskers.com, $80