Mortlach, one of those "only for blends and independents" distilleries that has graduated through sweat and perseverance (or marketing and PR) to official lineup status, is actually one of my favorite distilleries. The independent Gordon & MacPhail bottling was a stunner, and frequent readers will know that the "heavily sherried and meaty" style is right up my alley.
Mortlach is an unusual distillery. Like Springbank, it has a unique and convoluted distillation process that involves "partial triple distillation" or "2.7 times distillation" which I won't even try to describe here. Mortlach has six stills of vastly different types and sizes, and has been around since 1823 (and a major component in the Johnnie Walker blends since 1923). Owned by Diageo, it has not had much of a presence in the single-malt scene aside from one-offs from independents or special releases from Diageo. Until 2013, that is, when Diageo announced new packaging and a corresponding new brand strategy for Mortlach single malt, aiming at the premium market. The entry-level "Rare Old" expression, with no age statement, launched for almost $130 a bottle in the US. Yikes.
The Rare Old is neither rare nor old. A non-age statement bottling at an appropriate 43.4% ABV (Why not 43%? Who knows.) from a mixture of ex-sherry and ex-bourbon casks, the Rare Old shocked everyone with its initial price – made worse by its bottling at 500ml instead of 700ml in the UK – and then further shocked everyone by diving down the price charts by more than 50% after demand failed to materialize. That's an unheard-of discount these days, with whisky of all sorts costing MORE every month, not less. I purchased my 500ml bottle from the UK for $41 (That's £30, down from its launch price of £55) after missing a sale of the 750ml size at Costco last year for $40! When you consider that some US retailers carried the 750ml Rare Old at launch for $129, that's quite a fall from grace.
Update 7/25/2018: Apparently Diageo has been informed of their mistake in presenting Mortlach in smaller, more expensive bottles with less sherry and no age statement, and is re-re-launching Mortlach with full-sized bottles and age statements. The Rare Old and other recent NAS releases have been discontinued. See the replacement for Rare Old here.
Nose: Thin and somewhat insubstantial. Clearly very little sherry influence, just ex-bourbon (possibly refill). Very light lemon (lemonade), stale biscuit, blanched almonds, fresh banana, and pale honey. Malty, but insipid. Does not smell particularly "young" – I would make a wild guess of around 10 years by aroma.
Palate: Syrupy body. Sweet up front, with only moderate tongue burn. A nutty dimension appears – cashews or Brazil nuts – along with a slight bitterness, like walnut skins. A reprise of all the notes from the aroma. Well-balanced but unexceptional. No off-notes or "too young" flavors.
Finish: Short. Malty, with a hint of peanut butter. Fades without any additional complexity.
With Water: A few drops of water add a papery, grassy aroma and bring more banana to the palate. I don't recommend any water with this.
Overall: An unchallenging dram that one could even call uninteresting. At the price I paid ($41 US for 500ml), I wasn't terribly disappointed although I would have been a bit miffed to pay $60 for 750ml. Yes, I'm aware of how little sense that makes. This bottle has also taught me that what I really like about Mortlach is not its "blank slate" nature, but rather its ability to meld with old sherry casks. In that way, it feels more like Glenmorangie than Balvenie to me. If you see a full 750ml bottle on sale at the $40 price, grab one. It's worth that. $129? I think not.
About The Distillery
Mortlach has been a major component in the Johnnie Walker blends since 1923, and a majority of its output is used for blending. The distillery's few single-malt releases are much prized by whisky drinkers seeking the house characteristic robust meatiness and affinity for sherry aging. Starting in 2014, owner Diageo has made a push to release Mortlach as a "premium" single-malt brand, with associated premium pricing and high-end packaging. The Speyside distillery itself was built in 1823, the first in Dufftown, and passed into and out of service (and through multiple hands) until bought by John Walker & Sons (later becoming Diageo) in 1923. Despite several improvements and a refurbishment Mortlach has six stills (three wash, three spirit) of all different sizes, shapes, and origins including a tiny spirit still named the "Wee Witchie" to which the meaty house character is attributed. Similar to Springbank, Mortlach employs a partial triple distillation sometimes called "2.7 times". The distillery uses cold worm tub condensers, stills heated by indirect steam, six larch washbacks and a semi-lauter mash tun. Process water is drawn from springs that run off of the slopes of Meikle Conval, which collect into the Dullan Water which in turn joins the River Fiddich.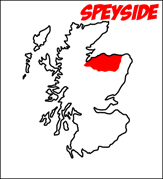 Mortlach Rare Old
43.4% ABV
Price Range:
$40 - $129 (Discontinued)
Acquired:
(500ml Bottle) purchased at Master of Malt, $41