Mortlach has, once again, revamped its range. It has replaced the Rare Old (NAS) bottling with this new age-stated 12 year as the "entry" dram. While I do applaud the use of a 12 year malt as the entry-level bottle for a distillery's official range, I'm not crazy about any "entry level" bottling starting at $55. But no distillery has yet asked me for pricing advice, so onward we plunge.
The "Wee Witchie" is the name of Mortlach's small experimental pot still, and "some" of its output was included in the batch for this bottling. "Some" is one of the worst words in the English language so we don't know if we're talking about a literal teaspoon or if 30% of the vatting comes from The Wee Witchie. It's kind of an irrelevant piece of information. The malt used here was distilled using Mortlach's traditional and eccentric "2.81 times" distilling process, and was aged in a combination of ex-sherry casks in European oak, and ex-bourbon casks. I'm old enough to remember when The Balvenie using two different types of full-term casks was innovative, and now everybody's doing it.
The malt is aged for a full 12 years and is bottled at 43.4% ABV.
Nose: Chewy toffee, rich fig jam, cashew butter. New leather. Definitely has the Mortlach "meatiness", as well as a bevy of European oak and sherry-derived notes: specifically the dried resinous ones, not the sweet fruity ones.
Palate: Medium bodied, not quite syrupy. Indistinct. Dry, as expected, but without any of the sherry notes promised by the aroma. Cola. Very dark chocolate. That's about it.
Finish: Medium-long. Black coffee, mildly bitter barrel char, and a continuation of the (totally devoid of fruit) notes from the palate. Fades slowly but without evolving.
With Water: Several drops of water have little effect on the aroma except perhaps muting it a bit. The palate, however, seems a bit sweeter (milk chocolate instead of dark) and shows more nuttiness and more cereal-forward malt. The finish is livelier, but has no additional notes. Water is a good idea here, but doesn't fix the main problems.
Overall: Wut. This has a very typical sherry-matured experience on the nose that totally vanishes on the tongue and throughout the finish. The fruit – which is still there when I nose the glass – completely disappears by the time it hits my tongue. A mystery, and a bit of disaster.
It pains me to write this about one of my favorite distilleries, but I would expect something like this from an independently-bottled Mortlach out of a castaway cask that didn't quite make the official cut. I did not expect a "failure to launch" sherried malt with an official logo on the bottle. A shame, and a disappointment. I would not pay $55 for this again.
About The Distillery
Mortlach has been a major component in the Johnnie Walker blends since 1923, and a majority of its output is used for blending. The distillery's few single-malt releases are much prized by whisky drinkers seeking the house characteristic robust meatiness and affinity for sherry aging. Starting in 2014, owner Diageo has made a push to release Mortlach as a "premium" single-malt brand, with associated premium pricing and high-end packaging. The Speyside distillery itself was built in 1823, the first in Dufftown, and passed into and out of service (and through multiple hands) until bought by John Walker & Sons (later becoming Diageo) in 1923. Despite several improvements and a refurbishment Mortlach has six stills (three wash, three spirit) of all different sizes, shapes, and origins including a tiny spirit still named the "Wee Witchie" to which the meaty house character is attributed. Similar to Springbank, Mortlach employs a partial triple distillation sometimes called "2.7 times". The distillery uses cold worm tub condensers, stills heated by indirect steam, six larch washbacks and a semi-lauter mash tun. Process water is drawn from springs that run off of the slopes of Meikle Conval, which collect into the Dullan Water which in turn joins the River Fiddich.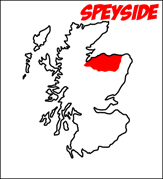 Mortlach (12 year) 'Wee Witchie'
43.4% ABV
Acquired:
(750ml bottle) Total Wine in San Jose, CA, $55