If I had the cash, this blog would become The Mortlach Noob! If it weren't for Diageo, that might be possible, but as I mentioned in last week's review of a G&M Mortlach 15 year, the official brand lineup announced in 2014 starts at $110. Ouch.
This bottling, at nearly half the price of the Gordon & MacPhail 15 year, was distilled in 1995 and aged in "oak casks" according to the label (duh) for 16 years. After the tasting below, it's clear to me that these were ex-bourbon casks, or perhaps 4th-refill sherry. That could account for the price difference between this and other sherried Mortlachs, as the Alexander Murray is only $45! That's a steal. I found this bottle at a Trader Joe's in California, but I believe Alexander Murray is expanding their retail presence and might be available elsewhere. I know I've seen some Alexander Murray bottlings at Costco, although not this one.
Nose: Tannic, slightly acidic oak. Something tart, like apple cider vinegar, meets the nose first, and further digging is necessary to find the meaty/fruity notes that Mortlach is known for. Deeper in the glass I find dried apple slices, fresh hay, and a faint charry smokiness. Butterscotch makes an appearance, but the overall aroma is not sweet.
Palate: Texturally heavy, not quite oily. First, there is a pleasant wave of toasty grains and cashew butter, followed by more dried apple and dusty orange peel.
Finish: Warming; medium length. Roasted nuts, spun sugar, fading without bitterness.
With Water: Several drops of water seem to wash out the aroma, leaving only faint hay. The palate becomes thinner and acquires only a waxy/glue note. The finish, however, is a little fruitier. I'd skip the water here. At 40% ABV, it certainly doesn't need it.
Overall: While it pales in a side-to-side comparison with classical sherry-aged Mortlach like the G&M 15 year, this Murray bottling stands on its own with a very pleasing combination of roasted/toasted/meaty flavors and without cloying sweetness on the palate. This is a cautious "Recommended" based on the price-quality ratio. The nose and finish are a little anemic, and the 40% ABV bottle strength was a mis-step but the price, as they say, is right.
About The Distillery
Mortlach has been a major component in the Johnnie Walker blends since 1923, and a majority of its output is used for blending. The distillery's few single-malt releases are much prized by whisky drinkers seeking the house characteristic robust meatiness and affinity for sherry aging. Starting in 2014, owner Diageo has made a push to release Mortlach as a "premium" single-malt brand, with associated premium pricing and high-end packaging. The Speyside distillery itself was built in 1823, the first in Dufftown, and passed into and out of service (and through multiple hands) until bought by John Walker & Sons (later becoming Diageo) in 1923. Despite several improvements and a refurbishment Mortlach has six stills (three wash, three spirit) of all different sizes, shapes, and origins including a tiny spirit still named the "Wee Witchie" to which the meaty house character is attributed. Similar to Springbank, Mortlach employs a partial triple distillation sometimes called "2.7 times". The distillery uses cold worm tub condensers, stills heated by indirect steam, six larch washbacks and a semi-lauter mash tun. Process water is drawn from springs that run off of the slopes of Meikle Conval, which collect into the Dullan Water which in turn joins the River Fiddich.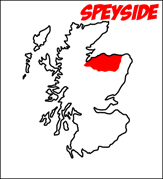 Alexander Murray: Mortlach (16 year) 1995 – 2011
40% ABV
Acquired:
(Bottle) purchased at Trader Joe's in South San Francisco, $45