I had the pleasure of participating in the 2/24/2011 #anCnoc Twitter tasting, hosted by @EdinburghWhisky and anCnoc. This third-and-last sample of the brand-new 1996 vintage (which will be released to select European markets) was my favorite, showing a super-chewy body, mounds of savory notes (which I love), salted nuts, and meats. Most of the Twitter tasters also listed this as their favorite. The limited-edition 1996 vintage (bottled in 2011) is matured on-site at the Knockdhu distillery and bottled without chill-filtering at between 14 and 14.5 years old (in January 2011). It was matured in a mixture of bourbon and sherry casks.
(Twitter tasting – 50ml sample courtesy of anCnoc (Knockdhu distillery) – 2/24/2011 #anCnoc twitter tasting)
Nose: Unexpected. Shoe leather and paint thinner. Let it sit for a few minutes to dissipate. Now there's salted nuts, a whiff of meats smoking on the barbecue, nothing sweet going on here. Duck confit and white beans (Thank to @maltjerry for the cassoulet tasting note). A dash of water doesn't improve it – perhaps just reveals some of the original malt sugars.
Body: The mouthfeel is a revelation. Thick and syrupy but not remotely sweet. Chewy. Don't add water to this, the body is too interesting.
Palate: Starts with malt burn, goes straight for the creamy peanut butter, then lingers in the area of smoked meats, hummus, shortbread with stewed plums, Old unfinished wood. Rice pudding. salted nuts. nougat!
Finish: Long and evolving, going from those peanuts to salted fish, copper pennies, browned steak, carmelized onions. The peanut-butter lingers for long after. Fantastic.
Wow. It's a shame there is such a limited quantity of this liquid. If you can find it, buy some!

About The Distillery
Pronounced 'an-nock', this single malt is actually distilled at the Knockdhu distillery in Speyside. To avoid confusion with the Diageo distillery Knockando, Knockdhu's new owners appropriated the name of the nearby hill Knock Hill ("An Cnoc" is the Gaelic) when they began bottling a single malt in the early 1990s. The distillery had previously been making malt for blending for the hundred years since its construction. Several streams arise on Knock Hill and provide water for the town of Knock, and for the distillery. Knockdhu uses tradtional worm tubs instead of condensers, which is said to promote weight and body to the spirit, along with sulphur and vegetable notes.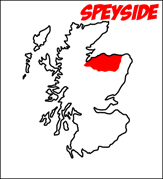 anCnoc (1996 vintage, bottled 2011)
46% ABV
Acquired:
(50 ml sample) provided by Knockdhu distillery for Twitter tasting.