Ok, so I'm super late to the party, again. I have a bad habit of buying really good bottles and then sitting on them until it's too late to do any good to my readers. So, in the interest of saving myself some face, this post is a birthday present to myself. Why? Well, it's my birthday, it's a post about something that none of you can buy, and (drumroll), this particular cask was distilled ON MY BIRTHDAY when I was 10 years old! I don't even remember being 10, so the thought of this juice splashing out of the still and into a (probably) refill sherry cask to sleep for the next 20 years gives some real perspective to the glass in front of me. Also, it makes me feel old.
Distilled at Longmorn on the 22nd of June 1992, cask 86620 was bottled at 52.8% ABV 20 years later, in 2012, exclusively for K&L Wine Merchants by independent brand The Exclusive Malts. K&L Exclusives get a lot of buzz in the whisky scene online, but don't have much impact to the rest of the world that doesn't happen to live in California. That's why I try to avoid writing about them, even when I buy one. However, I have the utmost respect for David Driscoll's ability to select and negotiate excellent casks of whisky, even if they usually come out above my ideal price point. This one I got to sample last year and I was blown away. I bought a bottle, even though $120 is significantly higher than I usually spend. My excuse? Birthday!
Nose: Sticky sherry notes of strawberry jam, apple cider vinegar, fig preserves, underlayed with oaky sap (not quite maple syrup). Powerful, and delectable. The fruit is profound, but not cloying. The oak is beautifully balanced, and while the whole smells integrated and mature, there aren't excess rancid notes. Very fresh for 20 years old!
Palate: A powerhouse of fruit, with equal helpings of jammed, dried, and fresh. The oak is present, but not overwhelming, and the tongue burn is surprisingly minimal for something over 50% ABV. It doesn't fully represent its age, without much balsamic-type flavors, but it is round and complete. Eyes closed, I would say it was 16 years old.
Finish: Jolly rancher candies, a touch of cinnamon, a lot of fruitcake, and some more of that maple syrup (but not quite) on the fade-out. Becomes slightly bitter, with nut skins and burned caramel on the tail.
With Water: A dash of water really opens up the fresh fruit – there are even some cherry blossom or apple blossom notes added. On the tongue, the burn is even more muted, and some chocolate notes are displayed. The malt alone is an experience, water brings it to another level.
Overall: Wow. What a birthday present to me! I have a weak spot for fruit-bomb sherried numbers, and this ticks all of the boxes (except one). The nose is phenomenal, especially with some water to open it up, and on the tongue it purrs with sherry goodness and no undue burn. Alas, the finish has more bitterness than I like. Nevertheless, this is a fantastic whisky, and a real solid reason to seek out some more Longmorn, especially if it's sherried.
Note: K&L sold out of this a long time ago, but they still have this, which sounds similar: http://www.klwines.com/detail.asp?sku=1155020.
About The Distillery
This Speyside distillery was opened in 1897 by John Duff, who also built Benriach next door. Spring water flows from Mannoch Hill. Little-known among mainstream whisky drinkers, new marketing efforts have started to expose this cult malt to a larger audience. It is a principal component in many blends, and was not sold as a single malt until recently.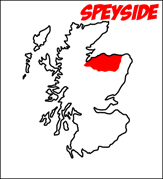 Exclusive Malts: Longmorn (20 year) 1992 – 2012
52.8% ABV
Price Range:
$120 (Unavailable)
Acquired:
(bottle), K&L Wine Merchants, paid $120.