Anyone who was around the whisky blogosphere back in 2011 can't have avoided the media fervor surrounding the discovery of several crates of antique scotch whisky preserved beneath the Antarctic heritage site of Sir Ernest Shackleton's ill-fated 'Nimrod' expedition base camp. Three bottles were air-lifted to Scotland for analysis before being returned to the site, and a limited re-creation of the whisky (blended by Whyte & Mackay master blender Richard Paterson aka 'The Nose', himself) was sold for upwards of $200.
The original whisky from defunct brand Mackinlay's Rare Old, was determined to be a 5 to 10 year-old single malt from the now-closed Glen Mhor distillery. The aforementioned re-creation was a blended malt intended to approximate the flavor of the original, and was quite tasty. Whyte & Mackay, which owns the Mackinlay brand name, revitalized it to capitalize on the media attention and later released this blended malt. Confusingly, it is not the same blend as the 2011 reproduction (for one thing, it contains no Glen Mhor), and is priced at the low end of the market, around $35. To its credit, it is still a blended malt scotch and thus contains no grain whisky. There aren't many blended malts in this price range, although one can't help but compare it to Monkey Shoulder.
This version, bottled at the bare minimum 40% ABV, is comprised of Highland single malts aged in a combination of ex-bourbon and ex-sherry (Spanish oak) casks. Unlike the more-expensive prior re-creation, we know little to nothing about the composition of this one, except that it is far cheaper and produced in far bigger batches. I'd assume there's Dalmore single malt in it since Whyte & Mackay owns that distillery and uses it in other blends, and that the malts are on the young side. This edition is bottled with added coloring and (probably) is chill-filtered.
Nose: Heady, fully present aroma. Vanilla, coconut butter, green apple, lemon-lime, lychee, fresh hay, and shortbread. Although these aromas are bright and clear, there is a wateriness to them, either due to the low ABV or perhaps due to a missing "bass" or supporting note.
Palate: Thin body. Watery. Initial flavors align with the aroma: hay, shortbread, coconut, burnt sugar, and a minimum quantity of those fresh fruits (just the lychee). There's also a youthful alcohol note, not quite like nail polish remover but close.
Finish: Medium length. A little sweeter, with vanilla buttercream frosting, vague nuttiness, and a little bitter charcoal. Fades without evolution.
With Water: Although I hesitate to further dilute anything at 40% ABV, I must for completeness's sake. A few drops of water seem to mute a lot of the fruit notes, requiring a rest in the glass to get them back. The water adds nothing new to the palate, although it might improve the sweetness a little on the finish. This does not need any additional water.
Overall: A middling dram with a nice array of tropical fruits (par for the course with many Highland single malts) that falls apart a little on the palate, betraying some youthful ingredients, and flattens out on the finish. Nice enough, in its way, but not something worth seeking out.
The history behind the bottle is interesting, but not enough to warrant drinking a mediocre blended malt. I'd probably rather purchase Monkey Shoulder or anything from Compass Box.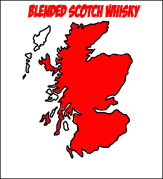 Mackinlay's 'Shackleton' Blended Malt Scotch Whisky
40% ABV
ScotchNoob™
Mark
: