Formerly known as "vatted malts", "blended malts" are in vogue now, largely due to the efforts of Compass Box's John Glaser. He certainly didn't invent the category,(Johnnie Walker has had several blended malts in its portfolio – including Johnnie Walker Green and Gold – since the early 1990s, and other bottlers had been doing it before then) he just made it cool. To be a blended malt, a whisky must be comprised of single malts from more than one distillery, and no other additive (such as grain whisky). Wemyss Malts, pronounced "Weams" – yeah, I thought it was "We Miss" too – has a line of romantically-named blended malts in ages 5, 8, and 12 years old. Each includes a 'key ingredient' to define its character and justify its name, as well as up to 16 other malts. I tried The Spice King (spices courtesy of a heavy dose of Talisker), The Smooth Gentleman (key ingredient: Aultmore), and The Peat Chimney (with Caol Ila) at a K&L Wednesday spirits tasting in Redwood City, CA.
The cool thing about these products (at least the 8 year-old variety) is that they're all uniformly priced at $40. This kind of deal isn't particularly common in today's malt marketplace, and a carefully blended all-malt offering at minimum 8 years… that has a nice ring to it. If you like heavy peat, though, I suggest looking at Laphroaig 10 or Finlaggan for your value, as The Peat Chimney is light on Islay style. Below, I give you my notes on The Peat Chimney, which is a blend of 16 malts. The largest proportion is from Islay distillery Caol Ila, which is known for its lighter style and mild peat.
Nose: Light, chimney soot style peat, smoked fish, pine sap. Nice. Not as potent as the heavy-hitter Islays, but a nice balance of mild malt and non-aggressive smokiness.
Palate: Tad sour. Some (very nice) green grass, green apple, prominent chocolate, caramel, and a little barrel char. Pleasant and inoffensive.
Finish: Drying. Nice. Not too peat-heavy. Balance of mild malt sweetness and those sour fruits/grass.
Overall: This is a good whisky to introduce a neophyte to peated Scotch. It has all of the hallmarks of Islay: smoke, char, vegetative elements, and some meatiness, but all wrapped up in a mild, non-threatening package. However, if you're already a fan of peated whisky, this will seem far too tame.
Note: Yes, I recycled the blurb at the top from the Spice King and Smooth Gentleman reviews. Alas, there isn't much to say about these, except that they're very good values and quite drinkable.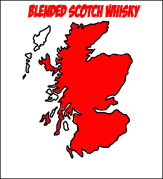 Wemyss Malts: Peat Chimney
40% ABV
ScotchNoob™
Mark
: