Well, it's a blend. Specifically a $20 blend of Scotch malt and grain whisky. Like J&B, Cutty Sark, Johnnie Walker, Famous Grouse, and others, it occupies the industry "sweet spot" – just above no-name $10/bottle swill, and just below the entry-level Single Malts and "premium" aged blends. Principally intended for mixing or drinking over ice, I nevertheless feel that it deserves a mention as an eminently drinkable spirit, neat.
Teacher's is reportedly a blend of around 45% single malt with Scottish grain whisky, which is quite a bit higher than the 20% to 30% found in other widely-available blends. The dominant malt is Ardmore, which is owned by the same parent company. First bottled in 1830 by its namesake, William Teacher, it has enjoyed a long popularity in the British Isles.
Nose: Young grain is predominant, as expected, with undertones of the typical caramel and treacle notes. Additionally, there is a greasy, nutty, clarified butter scent – like ghee. A dash of water brings out little extra – maybe a ghost of crushed peanuts.
Palate: That young grain is up front – flavors of fresh hay, raw oats, figs, buttered scones, and – way in the background – hazelnut toffee. There is a nice creaminess to the mouthfeel, more body than I'd expect in a young blend. A dash of water thins the body slightly.
Finish: Medium-long and slightly unpleasant: machine oil, bitter coffee grounds, and echoes of the toffee. A little water mellows the finish, rounding out the flavors and sweetening them: candied walnuts and light brown sugar.
I would say this is a small step above The Famous Grouse in pleasing flavors, and the creamy mouthfeel is quite nice in such an inexpensive blend. Props also for the higher malt content. Worth a try if you're looking for a staple liquor cabinet blended Scotch for under $25.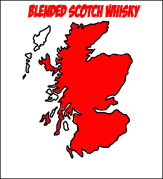 Teacher's Highland Cream
43% ABV
ScotchNoob™
Mark
: