These days, every time I turn around the price of an old standby goes up. I can't get Laphroaig 10 for $31 anymore, or Balvenie DoubleWood for $34, or GlenDronach 12 for $40. Across the board, prices on single malts have risen by between 2% and 20% in the last year. Whisky boom indeed – it's times like these that a resourceful noob turns to rediscover cheaper alternatives.
So how about some airplane whisky? Cutty Sark is one of those run-of-the-mill blends that happens to be on every bar counter, well, everywhere. Born in 1923 as a Berry Bros. & Rudd blend to sell to their wine-loving clientele, the blend was reputedly the first to eschew caramel coloring in favor of a natural, pale coloring. As it's primarily young whisky aged in American oak, it takes on very little cask coloring, and is notably paler than most scotch on the market, blends or otherwise. The brand is now owned by Edrington Group, who also sell Famous Grouse, and own both Macallan and Highland Park distilleries.
The malts in Cutty Sark are "mostly Speyside", according to the website. I do wish these companies would release more information on the components of their blends. While most bar-goers don't care – I might be more inclined to sip on a cheap blend if I knew that its primary malt ingredient was something I'm familiar with and enjoy. A little Internet research reveals that, among others, Cutty Sark contains some Macallan, Highland Park, Glenrothes, Tamdhu, Bunnahabhain and Glengoyne.
Nose: Getting past the waft of nail polish remover, there is some nice vanilla, peach pit, and lemon sorbet. There's also an odd, compost-y scent, like molding fruit. Eugh.
Palate: Medium-bodied. Relatively low tongue burn. Middling notes of toffee and apricot jam, and a nice milk chocolate chaser. Really, not too bad.
Finish: Short finish. Milk chocolate again, and mild nuts. The nuts turn somewhat bitter as they fade.
With Water: A healthy splash of water does nothing to help the nose. The palate is sweetened, and the finish becomes, if anything, more bitter. Stick with ice or mixers, since water is no improvement.
Overall: Well, aside from that obnoxious rotting vegetation odor, it's not that bad. The milk chocolate notes are impressive, and while the blend isn't complex, it's not offensive to the palate. Just don't… er… smell it. At any rate, if you're digging this deep to find affordable whisky, you may as well be putting it on ice or mixing it. It's hard to imagine sitting back in an overstuffed chair with a snifter of this and actually enjoying it. The search continues…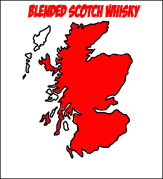 Cutty Sark Blended Scotch
40% ABV
ScotchNoob™
Mark
:
Acquired:
(50ml miniature glass sample bottle)