Well this was interesting. I don't normally taste things blind. For one reason, anyone who pretends to know anything about wine, beer, spirits, etc. knows to avoid blind tastings like the plague because they have a way of revealing exactly how full of crap we are. For example, at a recent tasting group I attended, 24 whisky enthusiasts had two chances to guess the origin of a mystery pour for an opportunity to win a bottle. It turned out to be Johnnie Walker Green Label (which is now back on shelves after a hiatus), and nobody even got close. At a similar event last year, nobody was even able to guess that a blind pour was rum instead of whisky!
So when reader Scott N. sent me a blind sample to get my opinion, I was wary. It was medium-gold in color, like an average ex-bourbon-matured single malt, so no help there. The nose was significantly iodine-heavy which hinted at peat (although it wasn't smoky), and some industrial oils and coconut reminded me of Redbreast. I guessed either Irish whisky, or an American malt (or some other grain like quinoa) aged in a cask previously containing peat.
Turns out I wasn't 100% off, as the sample turned out to be Té Bheag (pronounced 'chey vek'), a blended scotch with a big peated malt component made by Pràban na Linne Ltd. on the Isle of Skye. Boasting a high malt content of 40% malt and a peaty profile, Té Bheag is not chill-filtered and bottled at 40% ABV. The malts are purportedly in the range of 5 – 11 years and come from Islay, Island (Talisker, I'm guessing), Highland, and Speyside. Some portion of the malts used were aged in ex-sherry casks.
This competes directly with (and beats, in my opinion) peated blends like Black Bottle, Isle of Skye, and The Black Grouse. Unfortunately, it's not widely available in the US.
On to the tasting notes! Please remember that these notes were written while tasting blind, which show clearly that I don't really know what the heck I'm talking about.
Color: Medium gold, like an average ex-bourbon matured single malt.
Nose: A *strong* whiff of Iodine, with a savory undertone – like soy sauce or Thai fish sauce (but not fishy). There's also a layer of industrial oils, which reminds me of Springbank. An unusual grain profile, suggesting quinoa or oats or something.
Palate: Silky, syrupy body. Slightly sweet on the outset, with a hint of peat (or maybe that's the iodine again) after awhile. Some barrel char on the mid-palate, and a few baking spices (anise, cardamom especially). Remains sweet in a cereal way, but not particularly fruity.
Finish: Medium-long. A slight oiliness and a hint of toasted coconut. Meaty and not bitter. Fades with the coconut.
With Water: A few drops of water make the nose sweeter, which now definitely smells like Thai fish sauce. Palate/finish unchanged.
Overall: I quite like it, although the savory/iodine on the nose is teetering on the edge of "rotting meat" without quite falling over. There's a good, heavy body, a lot of complexity, and interesting coconut, all of which are things that I like about Redbreast and (sort of) Springbank. If you can find it and you like a little peat in your blended scotch, this is definitely worth investigation.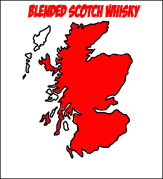 Té Bheag
40% ABV
ScotchNoob™
Mark
:
Acquired:
(Sample) Courtesy of Scott N. Thanks Scott!