Some of you may have missed the overlooked news last April that Master of Malt (I will not dignify them with a link) sold out – in all meanings of that phrase – to multinational conglomerate AB InBev. If you don't recognize that company name, it's the parent company of Anheuser-Busch. That's right. Budweiser. I mostly ignored the news myself as corporate takeovers are the norm in the alcohol business. Then I learned recently from a reader that Master of Malt has ceased shipments to the United States. No more whisky advent calendars, no more 30ml Drinks by the Dram samples (which this website essentially runs on, like gas), and no more Boutique-y Whisky Company independent bottles for US customers. Why would they do such a thing, you ask? Their official blog on the topic is full of apologies and vagaries, but reading between the lines the answer is clear: AB InBev is a major US distributor of alcohol, and spirits distributors cannot also be spirits retailers in the US, due to the antiquated post-Prohibition liquor laws known as the "Three-Tier System". Suffice it to say that unless AB InBev spins off and sells the Master of Malt retail site or forms a partnership with another retailer to handle US purchases, they won't be renewing shipments to the US any time soon.
Master of Malt is dead to me, long live The Whisky Exchange (often abbreviated TWE). Luckily for me and this site, TWE full-on copied Master of Malt and now offers a range of 30ml samples. Phew!
In the meantime, I have about a gallon's worth of Master of Malt samples to go through. Sometimes they don't even make sense. Like this one: Grant's 12 year-old blended scotch (not to be confused with Glen Grant 12 year-old single malt) is discontinued, and has been for awhile. Grant's Family Reserve (NAS) is now the flagship blend from William Grant & Sons, and the fourth best-selling blended scotch in the world. Following the industry-wide pattern, Grant's did away with those troublesome age statements in favor of (no doubt) being able to dump younger whisky into the vat. That's a bit of an exaggeration, as Grant's still sells 8-year, 18-year, and 25-year blends.
Grant's whiskies contain grain from the Girvan distillery as well as malt from William Grant & Sons -owned distilleries Glenfiddich, Balvenie, Kininvie, and Aisla Bay, as well as bulk malt from the wider market (apparently up to 25 of them). The blend is bottled at 40% ABV. Since you're not likely to find a bottle of this anywhere, and it likely bears little resemblance to the Signature or Family Reserve blends, I'm not sure why you're even still reading this…
Nose: Orange peel, honeyed malt. Sweet and bready like sugar cookie dough. Simple, and doesn't change in the glass.
Palate: Syrupy body. Sweet and simple, but with some weight. Honey up front, with a continuation of the cookie-dough theme. Slightly bitter citrus peels follow, and a tinge of barrel char.
Finish: Short. Yeasty, with a reprise of the palate notes, plus a little cinnamon. Fades quickly without evolving.
With Water: A few drops of water open up a dusty spice cabinet, with spent clove and dried-up ginger. The palate is, however, a little more complex and with a bit more spice. This doesn't really need the water, but isn't hurt by it.
Overall: Unchallenging but enjoyable. A good "I don't want to think about it too hard" kind of dram, without any rough edges or unexpected twists. Sweeter than most other mid-aged blends, but with less fruit. The Girvan grain component keeps its head down, and does not contribute any off flavors or betray any youthful alcohol notes. Of course this is discontinued, I would buy more if it weren't. Similar in a lot of ways to Bank Note 5 year, but with more finesse and more sweetness. Your best bet to find a replacement is to actually look at Monkey Shoulder, which has the same Grant's-owned malt components without the grain.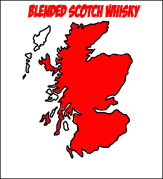 Grant's 12 year-old Blended Scotch
40% ABV
ScotchNoob™
Mark
:
Price Range:
$45 (Discontinued)