For the lead-in, scroll up to my review of Johnnie Walker Song of Ice.
Like Song of Ice, White Walker is a slight tweak to the generic Johnnie Walker formula. I imagine the gimmick was to sell a bottle with a label that changes color in the freezer while simultaneously playing off of the success of HBO's Game of Thrones series. I doubt the flavor of the whisky had much to do with it. Rumor suggests this version has more Clynelish and Cardhu than standard Johnnie. For an excellent rundown on the contents of various Johnnie blends, see Driscoll's blog.
For some reason, this stuff is bottled at 41.7% ABV. Why? No clue.
Retail prices vary widely, from the $16 I paid on sale to upwards of $40. It seems to be positioned lower than Song of Ice and Song of Fire. If you pay attention you can probably find a closeout like I did, when stock starts to run low. Just like with the Game of Thrones malts, Diageo would prefer these things disappear since they just simply made too many bottles.
The bottle label says "Distilled, Blended, and Bottled North of the Wall". This is actually pretty funny, since the real Hadrian's Wall separated what is now England and Scotland during Roman occupation of the region, and bisected the island much as The Wall in Game of Thrones separates the Six Kingdoms from the area known as Beyond the Wall, the realm of the White Walkers.
Diageo really wants you to freeze the bottle, by the way.
Nose: Very different from "Song Of Ice" – there are distinct fruit-cake and cocoa powder notes up front. Fig jam, medium-roast coffee beans, dried strawberries, kiwi, and a decided lack of paint-thinner! Woo!
Palate: Medium bodied. Coconut up front (like Song of Ice), but backed up with more rounded fruitcake and cocoa notes. There is – now – a hint of paint thinner. Hay, over-browned cookies (caramelized sugar, to be generous), walnuts.
Finish: Short. The finish on the first sip seemed vague. The second was more what I expected, with slightly bitter barrel tannins (mouth drying), a hint of charcoal, and a fading ghost of cocoa and coconut. Fades quickly without evolving.
With Water: A few drops of water amp up the nose tickle and the paint thinner, requiring a rest in the glass. The rest clears out the vodka note, but doesn't add new aromas. The palate and finish seem unaffected. Skip the water, here.
Overall: Tasting this alongside Song of Ice is an interesting experiment. One tends to think of mass-market blends as homogenized and lowest-common-denominator, and… well, they are. But it is interesting to see how two $16 (now) blends can convey an entirely divergent set of flavors despite both being set against the backdrop of vodka-esque young grain whisky. This one performs better at disguising that vodka note, with a nice array of flavors that suggest sherry aging: fruitcake, fig, cocoa powder, coffee. It's nuttier, rounder, and has a better nose-to-tail experience.
At the end of the day, both are watery (near 40%), grain-forward (vodka), but cheap. If forced to buy a second bottle, it would be White Walker… despite it retailing in a lower price bracket. If given a choice, I would skip both and save up for something better.
No, I did not freeze the bottle like Diageo wants me to. I just don't drink whisky that way. Truth be told, though, it might go down easier if those paint thinner notes are quieted by low temperatures. Give it a try.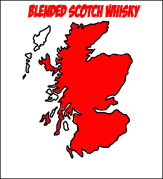 Johnnie Walker White Walker
41.7% ABV
ScotchNoob™
Mark
:
Acquired:
(750ml bottle) Mission Liquor, Pasadena, CA $16