The Glenlivet is playing some fun little games around its release of a "mysterious" Glenlivet Alpha product. The sample bottle is frosted black glass and devoid of details except for ABV: 50%. A Facebook app walks you through the usual tasting experience steps, starting with color. Each is preceded with a decidedly Dexter-esque teaser video with blurry fruits and jazz piano. It's not as cheesy as it sounds, really. What's wrong with having a little fun with your single malt?
Since the whisky itself is quite light and with a pale "hay" color, I guess it's likely to be from a refill ex-bourbon casks. The app nudged me toward a two-cask combination: 1st-fill ex-bourbon, and 2nd-fill "New Wood". If it's 2nd-fill, isn't it not "New" anymore? Moving on… I readily guessed that Glenlivet wanted me to select "fruity" and "floral" (it's Glenlivet after all), and heavy on the "vanilla." The app is very forgiving and it's clearly intended to give pats on the back for following the prescribed path. Flavor, though, has me confused. I get very heavy notes of dark chocolate and caramel, but the app is not responding to my insistence on these points. I score 1/3 for taste. Oh well. The "texture" section indicates the whisky must be non-chill-filtered (why else bring it up?) and I already knew it was 50% ABV by the bottle label. Cheater!
Nose: Fruity. A faint whiff of smoke (or was that the smoke in the video? Ah! An exercise in mind control. I get it now). A mild sense of wax. The Glenlivet green apple is present, but hidden partially behind a layer of caramel-and-wood.
Palate: Soft on the palate. Dark chocolate! Very nice. Mildly smoky, in a roasted coffee sort of way. Caramel and heavy vanilla wood – unusual for Glenlivet. A bit of barrel char.
Finish: Chocolate returns. Chocolate-covered green apple slices. Yum. Excellently balanced, and very sultry. The nose promised little, but this whisky came through in flavor! I want some more…
Overall: Games aside, this is some serious whisky. The aromas are fleeting and mild, but on the palate this malt explodes with the clearest chocolate-and-coffee notes I've yet to discover in a whisky. It evolves through confectionery and reveals its heavily-wooded nature before fading – very balanced – perfectly without undue bitterness. I'm so happy there's more to this whisky than just the promotional games!
Let's recap. We know it's a 50% ABV non-chill-filtered single malt from two barrel types: a first-fill ex-bourbon and a second-fill "New Wood" cask, whatever the Hell that means. New Wood that previously held Glenlivet, I suppose? It's probably a vatting of years à la Aberlour A'Bunadh, with some young malt to boost the fruity notes and some elder malt to lend that gorgeous chocolate tone. Whatever it turns out to be (the "secret" will be revealed this Thursday 6/6/2013), it was a fun game and I'm truly impressed with the quality of the whisky. Let's just hope it's not $100 retail. Don't let me down, Glenlivet!
Update: Well, I won't give myself credit for solving the puzzle because the answer was pretty clear in the Facebook app's "hints", but Glenlivet announced on 6/7 that the "secret" to Glenlivet Alpha is the use of whisky aged in "new oak" barrels which previously held single malt. In other words, brand new charred oak barrels were filled at some point with single malt (probably Glenlivet for an earlier release), emptied, and filled with spirit that eventually went into Alpha. This gives the whisky the benefits of new oak (lots of vanilla and soft wood) without the harsh tannins or overly-wooded notes inherent in the use of true new oak barrels. Cool. Also as expected, the whisky is not colored and is not chill-filtered, but no word on the age of the liquid.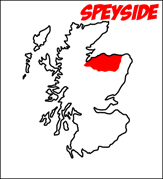 The Glenlivet Alpha
50% ABV
ScotchNoob™
Mark
:

Acquired:
(100ml review sample) Thanks Sarah! (Representing The Glenlivet)