Since last week I reviewed a sample of Old Soul Mississippi Bourbon from a generous reader, I thought I'd follow that up with a second sample that the aforementioned Generous Reader included in the package. Johnnie Walker Island Green – which should not be confused with Johnnie Walker Green Label – is a travel-retail variant of the Johnnie Walker Green Label bottling. The "Island" here refers to the Scottish isle of Islay, not some tropical island. Islay is essentially the opposite of tropical. Like the Green Label, this "Green" includes only single malts, making it a blended malt scotch whisky instead of just a blended scotch whisky like most Johnnie Walker labels. Those malts are, of course, all owned by Diageo: Caol Ila, Clynelish, Glenkinchie and Cardhu. Caol Ila makes up the lion's share, thus weighting Island Green more towards Islay peat. This lineup makes the vatting significantly different from the standard Green Label, since the only overlap in the recipe is Caol Ila.
The vatting is bottled in a 1-liter bottle at an acceptable 43% ABV and probably includes adjusted coloring and is likely chill-filtered. Unlike Green Label, this has no age statement, so expect the malts included to be younger than 15 years.
Island Green was initially intended for Travel Retail exclusivity but since there's not a lot of international travel going on these days, some online outlets are carrying it. Good luck finding it in the States, though; you'll probably have to order a bottle from the UK if you aren't planning any international travel.
I should note that I usually have trouble enjoying blended scotches (even blended malts) that contain peated elements. I find that when you "dilute" peated malts with non-peated malts, the smoke elements that remain prominent are the less-subtle cigarette smoke / ashy notes that I'm not crazy about, and you lose a lot of the subtlety that make peated single malts so complex and intriguing. I've never been a fan of Johnnie Black or Double Black for this reason.
Nose: Mild peat – dark wet soil – with only a touch of smolder. Hot coals. Mildly sweet malt, with sooty cereals and only a very little bit of a floral note (rosewater, maybe). Delicate, but unmistakably peat-forward.
Palate: Medium body. First impression is of vanilla cream soda and then a wave of peat crashes, turning smoky and earthy. Extremely mild tongue burn.
Finish: Medium-long. A twinge of honey sets in adding much-needed sweetness, and the charcoal notes turn slightly bitter. Fades slowly, without evolving.
With Water: A few drops of water result in a spike of tart aromas (tropical fruit), while taming the peat. These carry through to the finish. This changes a lot – I suggest trying it first without the water, and then adding a little to see how it changes for you.
Overall: A very successful peated blend(ed malt). Usually blends with peat elements go one of two ways: Horribly bitter and acrid, or exclusively peat-dominated. Island Green manages to straddle the line, with enough peat character to remain solidly in the "peated" category, while retaining a good balance of malty character and (albeit slight) Highland notes. Quite drinkable.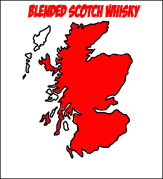 Johnnie Walker Island Green
43% ABV
ScotchNoob™
Mark
:
Price Range:
$58-$65 (per 1 liter)
Acquired:
50ml sample from a Generous Reader