When writing about scotch whisky in any capacity, Johnny Walker is invariably an elephant in the room. You have Adherents to the Faith that will swear that Johnnie is all the scotch they need, and anything else is just noise. You also have the Nouveau Aficionado who will swear up and down that the vile blended villain has never passed his lips, and never will. Certainly one of the most-recognized brands of scotch in the world, owned by one of the largest whisky producers in the world, and the world's best-selling scotch brand by almost a factor of 3 (17.6m vs 6.13m cases of Ballantine's in 2015), Johnnie is no stranger to anyone with passing familiarity with whisky.
Ask any modern whisky lover about Walker and you'll get a reaction similar to the one you'd get in a San Francisco speakeasy if you ask for Bud Light. Big is not cool, these days, and mass-produced means inauthentic, by hipster definition. I can't pretend to be immune to this way of thinking myself, with all my talk of 'craft' and the joys of single barrels and tiny producers. In an effort to keep my mind open, I've reviewed Black Label, Platinum Label, and now Green Label. (No Red Label… there are limits.)
Green Label, unlike all of the other Walkers, is actually a blended malt composed of (unsubstantiated) 27 different single malts, all at least 15 years (or, more likely, exactly 15 years) of age. The brand was unceremoniously removed from the market in 2012 to make room for Gold and Platinum, and has only recently returned to the lineup after a four-year absence. Diageo claims that the recipe has not been altered during this time. Of those 27 malts, the recipe reportedly makes use of some key components: Caol Ila (from Islay), Talisker (from Skye), Cragganmore (from Speyside) and Linkwood (also Speyside). All – of course – owned by Diageo. The blended (or "vatted") malt is bottled at 43% ABV and retails for around $45 to $55. My bottle was purchased in 2017, after the renaissance of the label.
Update: There's now a Travel Retail (duty free) exclusive version of this that has a different malt profile and more peat: Johnnie Walker Island Green.
Nose: Light and fruity, with white peach, honey, fresh malty grains, and graham cracker. Some floral notes are present, but hard to pin down – probably from the peated components. Let's call it gorse because that makes it sound like I know what I'm talking about.
Palate: Soft and slightly syrupy on the palate. Little tongue burn. Malty cereal notes dominate, with a tinge of oat bran. Some of the notes from the aroma are present (honey, particularly), but not much fruit. The honey is multi-dimensional, the rest is not.
Finish: Short. Slightly bitter barrel char initially, which is joined by vague nougaty nuttiness. Fades quickly with a whimper.
With Water: A few drops of water release a splash of green apple and unripe banana. The palate is a little spicier and more vibrant, as is the finish. I highly recommend a few sparse drops of water with this one.
Overall: Perspective is an odd thing. Had I just cracked open a bottle of single malt from some barely-known "craft" distillery after getting a good deal on the bottle, I would have probably rejoiced at having found a hidden gem with a polished and accomplished (if a little boring) presentation and a fabulous price point. Since this is the ubiquitous Johnnie Walker, however, my brain says "eh, it's just OK." Brain be damned, this is a very drinkable, very available, and very well-priced dram. It's all-malt, and it has an age statement to boot. Being picky, I have to point out that the palate doesn't offer much of a surprise, the finish is forgettable, and the peated components are nearly invisible… but we're talking about 15 year-old malt for under $50 here.
Bottom line: If you're going to drop money on a Walker, get this one. Everything "below" Green has clear flaws, and everything "above" Green is overpriced. What would Goldilocks do?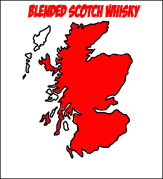 Johnnie Walker Green Label (15-year)
43% ABV
ScotchNoob™
Mark
:
Acquired:
(750ml bottle) $45, Costco, San Jose, CA.