Something about the Scottish sense of humor just can't help itself, I guess. Pig's Nose. Sheep Dip. Monkey Shoulder. Pig's Nose is a blended scotch from Ian McCloud, makers of Smokehead, Sheep Dip, Isle of Skye, owners of the Glengoyne and Tamdhu distilleries, and the name behind, well, a bunch of other brands.
Unlike the other animal references, which are slang phrases that evolved from whiskeymaking, Pig's Nose refers to the whisky being as "smooth as a pig's nose". I'll have to take that one on faith, having never personally felt the nose of a pig. The blend contains 5 year-old grain whisky from Invergordon as well as 5 single malts (3 Speysiders, 1 Highland, and 1 Islay). The recipe has likely changed at least once, as another source refers to a Lowland malt as well. The blend was assembled by famous scotch whisky ambassador and blender, Richard Paterson aka "The Nose". It's bottled at 40% ABV and retails for a strangely wide range of prices, between $23 and almost $40.
Nose: Quintessential blended scotch: dry hay, lemon peel, and some faint peat that is on the maritime side (briny). Comes across a bit watery at this proof. A brief rest in the glass opens up more sweetness in the form of vanilla buttercream frosting.
Palate: Syrupy body. Mild tongue burn, and not as watery as the aroma suggested even at 40% ABV. Sweetness emerges first, with light toffee and white chocolate. Next, the grain appears in the form of fresh hay and puffed oats. Lastly, the peat leaves a twist of earthiness.
Finish: Short. The peat is more evident here, along with cocoa nibs, bitter charcoal, and walnuts. Fades quickly, leaving some sooty bitterness as the last note.
With Water: A sparse few drops of water have little to no apparent effect on the aroma. The palate seems more spirity (like vodka). Skip water here.
Overall: The addition of an Islay peat is no doubt intended to make this blend complex, but instead I find that it just distracts from the rather surprising purity of the grain and malt despite the (I'm assuming) young age. The finish is a bit of a disappointment… I expected it to be brief, but did not expect so much lingering acrid bitterness. I don't know if that's from the peat or not, but it's a little unpleasant. The rest of the experience, though, is nice and certainly performs well for the price.
Speaking of price, it seems to vary. I gave this a "Try Before Buy" rating because it's not as good as Bank Note 5 year, which is my benchmark for budget blended scotch. If you can only find it for above $30 a bottle, I would call this "Not Recommended". In that case, try Bank Note or Cutty Sark Prohibition instead.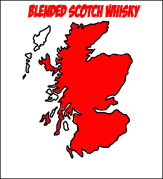 Pig's Nose Blended Scotch
40% ABV
ScotchNoob™
Mark
: