Released in 2017, Benromach Triple Distilled was a limited edition from owners Gordon & MacPhail that did not make it through the current lineup re-packaging (which was slated to hit US shelves in 2021 but hasn't, yet). Triple distillation is uncommon in Scotland (Auchentoshan is the only distillery that does it regularly, to my knowledge) but de rigueur in Ireland. It is considered common knowledge that triple distillation results in a cleaner, crisper, and perhaps blander spirit, but there are many examples to the contrary. Remember that most of a single malt's flavor actually comes from the oak it is aged in. That said, triple distillation does – by definition – remove some compounds from the whisky.
This Benromach can still be found on shelves (and, sometimes, on sale!). It was distilled from partially-peated malted barley in 2011 and bottled in 2019, making it 7 years of age. No, I'm not bad at math, it's just that the month of bottling means the whisky was under 8 years which by law means any age statement must be "7 years". It's bottled at a robust 50% ABV, higher than Benromach's usual 46%. This might be an intentional choice to combat the reduced concentration of flavor from the triple distillation. Similarly, Benromach chose only first-fill ex-bourbon casks for maturation… possibly another attempt to boost the flavor. Also, it's peated or at least partially-peated (Benromach does both).
Nose: Reticent with faint kiwi, coconut, and vanilla. After a rest in the glass to wake up, there's also a faint note of lemon-lime (Gatorade?).
Palate: Thin body, heavy tongue burn. Now there's a clear sign of peat with earthy, slightly smoldering campfire tinder, smoked salt, and woody vanilla.
Finish: Long. The peat grows, now with smoky distant grass-fires, slightly bitter charcoal, and sparks of acidity like lime juice in a barbecue marinade. Fades slowly without additional notes.
With Water: Several drops of water increase the nose tickle, bring a little sweetness (simple syrup) to the palate, and enliven the finish. Water's not a bad idea here.
Overall: This dram is so bipolar. The aroma, coy and mild despite the plentiful ABV is in direct contrast to the robustly peated palate and downright smoky finish. It's hard to call this anything aside from a peated malt. It's a definitively Highland style of peat, with a lot of char and zero maritime notes.
If you already like peat, and for some reason want your peat milder than that offered by Islay mainstays like Laphroaig 10 or Ardbeg 10, this isn't a bad option for the price. Personally, I'm either in the mood for peat in which case I want the full hog, or I want to experience the non-peat flavors available to Highland malts without smoky distractions. I'm rarely somewhere in the middle. That's just me, though.
About The Distillery
The Benromach distillery has a rocky history of lengthy closures and juggling ownership since its construction in 1898, but is now in the steady hands of independent bottlers Gordon & MacPhail. The new owners refurbished the distillery and began producing malt in earnest in 1998, and are now bringing a line of official bottlings to market. The distillery uses water from a spring in the Romach Hills, and proudly claims to use only first-fill barrels for aging whisky.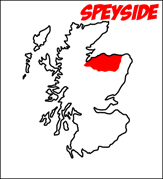 Benromach Triple Distilled
50% ABV
Acquired:
(750ml bottle) Mission Liquor, Pasadena, CA $33 (on sale)