Chieftain's Rare Single Malt Scotch Whiskies is the independent bottling arm of Ian McCleod Distillers, storied blenders, bottlers, and now owners of the Glengoyne and Tamdhu distilleries. The company wisely saw the slow demise of the independent bottling industry as distilleries started hoarding their own surplus barrels to meet escalating demand across the world, and bought two single malt distilleries, a very smart diversification.
There is still independent whisky to be bottled, even if the pickings are slimmer, and some tempting things show up on shelves. Here, a Mortlach (one of my favorite distilleries, but hard to find) was distilled in September 1997 and spent some number of years in ex-bourbon before being transitioned to a Pedro Ximénez sherry butt to finish, for a total of 18 years in cask. Chieftain's bottled the whisky in October 2015 at 46% ABV without chill-filtration or added color. This bottle is from Cask #91792, which produced 579 bottles for the US market. I bought it at K&L Wines in Redwood City for $99 and it sat in the back of my cabinet until I finally opened it recently. That's all to say you're not going to be able to find a bottle. Luckily, you're not really missing out.
Even though $99 is a good price for an 18 year-old single malt, especially a sherried Mortlach, it didn't take much tasting to conclude that this is the kind of thing that winds up on the independent market these days. It probably sat in a warehouse for a number of years before being chosen like the last scrawny kid being picked for dodgeball teams. (That was me, by the way.) The moral of the story is: Don't expect to find gold under independent labels anymore. It can still happen, but you're more likely to get deals than gems.
Nose: Dense, dark, sticky resin. Jammy and thick, with notes of cooked blackberry, plum/prune, fig, and not-quite-rancio notes of shoe leather, wood rot, and old wax. Not sweet, but there are notes of dense torte and fudge. Prominent nose tickle. A rest in the glass brightens the fruit a bit.
Palate: Thin body. More jam, although the palate is austere and flavors seem sparse. Red wine vinegar… old-vine Zinfandel… port wine reduction… coffee grounds…
Finish: Somewhat short. A dominant grape skin note, complete with red wine tannins and a bramble-like woodiness. Dusty. The finish happens quickly, leaving only the taste of old, wet attic behind. Clearly a sense memory from my own life, because that taste descriptor sounds downright daft. "I get a soupçon of wet attic." Bah. Get over yourself, Noob.
With Water: Several drops of water increase the nose tickle but don't seem to affect the aroma. The palate is a little more coherent, with fewer "dark" or resin-like notes and more fruity high notes. There is more caramel on the finish, and it might hold together longer. Try without water, and then add just a little to see how it changes for you.
Overall: Not as meaty or profound as some other Mortlachs that I've had. Luckily it is not noticeably sulfured, but the notes are eclectic and inconsistent, like a tapestry riddled with holes. A good example of the kind of thing that filters through the secondary market for single malt barrels without making a fuss, and probably would have performed much better as the sherry notes in a high-end blend. You aren't going to find it anywhere, but at $99+ you're not missing out.
About The Distillery
Mortlach has been a major component in the Johnnie Walker blends since 1923, and a majority of its output is used for blending. The distillery's few single-malt releases are much prized by whisky drinkers seeking the house characteristic robust meatiness and affinity for sherry aging. Starting in 2014, owner Diageo has made a push to release Mortlach as a "premium" single-malt brand, with associated premium pricing and high-end packaging. The Speyside distillery itself was built in 1823, the first in Dufftown, and passed into and out of service (and through multiple hands) until bought by John Walker & Sons (later becoming Diageo) in 1923. Despite several improvements and a refurbishment Mortlach has six stills (three wash, three spirit) of all different sizes, shapes, and origins including a tiny spirit still named the "Wee Witchie" to which the meaty house character is attributed. Similar to Springbank, Mortlach employs a partial triple distillation sometimes called "2.7 times". The distillery uses cold worm tub condensers, stills heated by indirect steam, six larch washbacks and a semi-lauter mash tun. Process water is drawn from springs that run off of the slopes of Meikle Conval, which collect into the Dullan Water which in turn joins the River Fiddich.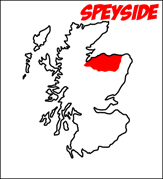 Chieftain's: Mortlach (18 year) 1997 – 2015
46% ABV
Price Range:
$99 (Discontinued)
Acquired:
(750ml bottle) Purchased at K&L Wines and Spirits, Redwood City, CA, $99