I am somewhat divided on Glenfiddich malts. Despite being one of the few 'household names' in the U.S. in the single malt category, I have trouble reconciling its excellent older malts with its frankly disappointing mass-market 12 year-old. The Solera-cask 15 is excellent. The partially-sherry-aged 18-year is a good malt at a great price. The new Glenfiddich Malt Master's Edition appears at first glance to be a good malt at a bad price.
I can picture the boardroom discussion. Boardmember A: "Malts are booming, why aren't we cashing in on price increases?" Boardmember B: "Because we're known in the market for value. You can't alienate customers by raising prices for no reason." Boardmember A: "Why not? Everyone else is." Boardmember C: "I've got it! Let's release a non-age-statement vatting with a fancy name and slap an $80 pricetag on it!" Everyone: "Genius!"
This is a "double wood", much like sister distillery Balvenie's eponymous classic. It is aged for the majority of its life in ex-bourbon, and then given a secondary maturation (not just a finish) in sherry casks. The only difference between the two malts? Balvenie DoubleWood is around $40. This is $80. Why? DoubleWood is 12 years old. Malt Master's Edition is 6-8 years in ex-bourbon followed by 4-6 years in ex-sherry. That puts it somewhere between 10 and 14 years old. So… 12, on average. According to the press release, this is the first Glenfiddich malt to be transferred entirely from bourbon barrels to a prolonged maturation in sherry barrels, as opposed to the 18-year, for example, where barrels of each type are blended together in large batches to get the target flavor profile. This seems like a weak basis for an $80 price tag to me, although it could be argued that the barrels selected for this malt are of higher quality and thus more valuable than the "run of the mill" barrels that get dumped into the mass-market varieties. Unfortunately, that's a consideration that can't be quantified – we just have to take Glenfiddich's word that this whisky is worth $80. Let's find out.
Nose: Clear components of pear and crisp apple. Cider. Slightly winey, with red grape skins and a mild sour note. Golden raisins and vanilla. This really strikes a chord with me – pear and apple notes are among my favorites. So far, better than DoubleWood.
Palate: Nice caramel apple notes. Round and sweet. Medium-bodied. Granola and golden raisins. Somewhat disappointing – there's not a lot going on here. It tastes like a slightly younger, slightly blander version of the 18-year.
Finish: Sticky toffee pudding. Malty and mildly oaky on the tail end, not overly bitter. Walnut on the fade-out. Maybe I missed something, but this isn't a strong finish for me.
With Water: Opens up some banana notes, and various florals – honeysuckle? Palate is washed out and bland. I don't suggest water with this.
Overall: Very nice. The nose is a surprise, with mouth-watering fruit notes that stand out clearly. It gets somewhat too sweet in the finish, where the subtle notes are washed away by the sticky caramelly sugar. Reminds me of some Glenrothes, without as much in-your-face sherry. Delicate and accomplished, and clearly better than the similar-but-cheaper Balvenie DoubleWood 12.
I have to concede that this is better than DoubleWood 12. However, it doesn't warrant the same price tag that is carried by amazing malts like Ardbeg Corryvreckan or Talisker 18 (yeah, I know, those are peated, but the point stands). If I were pricing it blind, I would have said $55, tops. Although as we've all seen recently in the market… $80 is the new $50.
About The Distillery
Glenfiddich needs little introduction. One of the most prevalent single malt Scotches available in the US, the baseline 12-year can be found in drug stores, supermarkets, liquor shops, bars, and restaurants across America. In fact, Glenfiddich and Glenlivet are probably the only two single malts that many Americans would recognize by name. In 1963, William Grant & Sons company set aside casks of Glenfiddich whisky with plans to market it as a single malt. Single malts were, at the time, exclusively the domain of independent bottlers, and were not widely available outside of specialty wine & spirits retailers. This move started the industry (which soon followed suit) down the path of official distillery bottlings of single malt whisky, and is largely the reason today's whisky industry is so diverse. Located in Dufftown, in Speyside. Glenfiddich means "The Valley of The Deer" and refers to the field on which the distillery is sited – it also explains the image of a deer on the label. The entire production, from malting to bottling, is done on-site, which is very rare for a distillery. Craft Campbeltown distiller Springbank may be the only other one. Glenfiddich even has its own cooperage. Open mash tuns and Douglas-fir washbacks are used in distillation, and the water flows from Robbie Dubh spring, which rises from the granite Conval Hills. With 29 stills making 10 million litres of whisky a year, it's no surprise that 33% of the world's malt whisky sales are Glenfiddich. Even if you don't appreciate the "mass-market" aspect of their whiskies, you have to appreciate the industry revolution set in motion by William Grant a half-century ago, and the powerhouse brand that he built.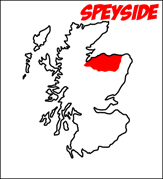 Glenfiddich Malt Master's Edition
43% ABV
Acquired:
Review Sample. Thanks Tori at Maloney & Fox!