Oof it's been a month. Nobody wants to read about a blogger's personal life outside of the topic of interest, so I won't bore you, but lately Saturday mornings (when I write) have been… unavailable. Apologies for that.
I want to write about blended scotch in the same way that people want to pick at a hangnail until it inevitably bleeds. I want there to be excellent, affordable, widely-available blended scotch for everyday drinking, and I want to be the one that finds it and tells the world tiny corner of the Internet that I inhabit about it. So, every time I see a blended scotch (preferably with an age statement) under forty bucks or so, I grab it, hoping to uncover said gem. This is my hangnail.
What's this metaphorical bleeding about? Why am I being hyperbolic? It's because I just… don't like the taste of blended scotch. No matter how many bottles I sample, they always taste to me like single malt that has been mixed with vodka. Because that's kind-of what they are. The thing is, I'm historically pretty good at "acquiring" tastes. I started out thinking bourbon tasted too much like engine oil and now I can't get enough of it to the point that I'm out here recommending Jim Beam of all things. I just haven't been able to shake my inherent distaste for blends. Ice doesn't help, water doesn't help, and closing my eyes and pretending it's Balvenie doesn't help.
Yes, there are exceptions. Great King Street is very good, but costs more than your average entry-level single malt. Bank Note 5-year (NOT the peated one) is decent, but quality has been sliding and availability has been dismal. I once had a 17 year-old Ballantine's that was excellent, but $100 is not exactly in everyday drinking territory.
Anyway, I'm here today to pick at the nail some more. Granndach is a blended scotch brand created for an American grocery chain that cancelled the order due to Covid and left the bottler with a lot of inventory to get rid of. Read the full(er) story here. It's largely 12 year-old Tullibardine, assorted other malts, and 12 year-old grain whisky. It's baseline 40% ABV but it's very cheap as 12 year-old blends go and it came highly recommended.
Nose: Light caramel, toffee, nougat. A twinge of paint thinner, but it's in the background. Deeper in the glass there's a bit of marzipan and faint orchard fruits (peach). There's also just the faintest suggestion of peat but in a fungal, earthy way, not smoke. Pleasant and inoffensive if you ignore the lingering whiff of paint thinner.
Palate: Syrupy body. Sweet up front, with those same caramel and nougat notes. Minimal tongue burn. Soft and sweet. Very easy-drinking, although that paint thinner creeps in again on the back of the palate.
Finish: On the short side. Warming, with a consistent array of sweet flavors and a bare minimum of bitter tannins and charcoal. Fades quickly without evolving.
With Water: A few drops of water increase the nose tickle, but don't seem to add anything to the aroma. The palate seems drier, oddly, but the finish is livelier and now has some of the orchard fruits from the aroma. Water doesn't hurt here.
Overall: The epitome of cheap, inoffensive, forgettable blended scotch. It reminds me of Bank Note 5 year, but with a bit more of that unfortunate "paint thinner" note, and with more-elegant flavors (orchard fruit and nougat instead of brown sugar and oak). The price is dead-on, though, indeed if it's still $15 I'd call that a great deal. It's way more consistent from aroma to finish than a lot of the big names in blended scotch (Dewars, Cutty Sark, Johnnie Walker, etc.) and scratches exactly the same itch.
I'm not going to outright recommend it, because I still think you're better off buying a cheap single malt like Glenlivet 12 or Glenfiddich 12 for a bit more money. That said if you have a penchant for cheap blends – and you don't have my same hangups – this isn't a bad choice.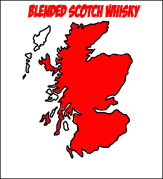 Granndach Blended Scotch (12 Year)
40% ABV
ScotchNoob™
Mark
:
Acquired:
(750ml Bottle) purchased at Mission Liquor, Pasadena, CA, $15