I like Glenfarclas. It's an independent distillery, still family-owned despite massive conglomeration in the rest of the scotch industry, and pretty much just continues doing what it's always done: make solid, dependable whisky at an acceptable price. Other than the vintage-dated Family Casks and the value-priced NAS 105, Glenfarclas doesn't release flashy bottlings every year with high pricetags and no age statements. It doesn't name whisky after trips to space or antarctic digs. It's also the last distillery in Scotland to use exclusively direct-fired stills. There's value in doing things the old way, and in not following trends like whiskymaking sheep. There you go, that's your tagline: The folks at Glenfarclas are not just whiskymaking sheep.
I'm a fan of the Glenfarclas 17, a well-priced competitor to other sherried malt in the 18 year range, although I thought the 12 year was priced a little high. Alas the 15 is apparently (please correct me if I'm wrong) not sold in the US, because Goldilocks (were she a malt drinker) would have settled on this one. It's just right.
Nose: Pungent, grapey resin, alongside prunes, dried red apples, and other jammy dried fruits. A tart top-note, like red wine vinegar but not as acidic, comes and goes while the overall impression slides towards jam and those bright red candied apples at the fair. Deeper in, there is an oily citrus note, like orange bitters. A rest in the glass reveals some vanilla.
Palate: Medium body, with a very tame tongue burn. Again, the flavors center around dried fruits, jams, and apple. Near the end, there's also a black licorice element.
Finish: Of medium length. Blackberry jam, drying red wine tannins (like the dregs at the bottom of a big fruit-forward red). Fades quickly without much residue.
With Water: A few drops of water actually seem to collapse the aroma, muting all of the fruit and adding nothing. If you add water, make sure to give it a lengthy rest before sampling. The palate becomes maltier, with more of a graham cracker note, but (again) with less fruit. Just skip the water here.
Overall: A mid-line sherried malt, without the "big fruit" hallmarks of a true sherry monster, but with plenty of berry, wine, and resin to produce the desired effect. The fruits are subdued, but do contain that aged, balsamic, resinous quality, and are balanced by slight malty sweetness. This is the kind of drink you reach for when you want to lean back and relax on a chilly winter evening, but not necessarily think too hard about what's in your glass. As it's not sold in the US my American readers might consider this one the next time a friend or family member is traveling to Europe. You know, as a souvenir.
About The Distillery
One of only two Scottish distilleries that has remained in family ownership since its establishment, the Speyside distillery has six stills, and are some of the largest in the region, but still refers to itself as a "Highland" malt. The stills are direct-fired rather than steam heated, which the family claims is necessary to produce a weighty spirit. Its water flows from the heather-covered slopes of Ben Rinnes. Glenfarclas whisky is aged exclusively in ex-sherry casks, most from producer José-Miguel Martin. The whisky matures slowly in earthen-floored dunnage warehouses, with little loss to the angels. It might be said that Glenfarclas shows best after long aging, and the family releases a long series of bottlings into the 40 and 50 year-old range.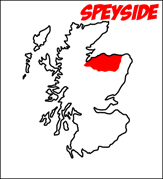 Glenfarclas (15 year)
46% ABV
Price Range:
$55 - $60 (not available in the US)